No Rainbow Poo for Adrianna
What is it with kids' fascination with eating crayons? One of our favorite stories of our growing up years was the one that involved my younger brother, Brian, eating crayons and ending up with rainbow colored poop in his diaper. Now Adrianna has entered the stage where crayons look very enticing as something that should be eaten.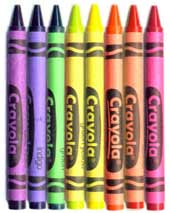 Every time we go to a restaraunt, the hostesses give us crayons for Adrianna to play with. Unfortunately, she is content to scribble on the paper for only about a minute. Shortly thereafter, the crayons make their way to her mouth to where Greg or I are forced to say something along the lines of, "No Adrianna. No putting crayons in your mouth. Crayons are not for eating."
When reprimanding her, we must also be shaking our heads from side to side without realizing it. Because now, when the crayons make their way to her mouth, she will look at me, pull the crayon back out, and shake her head from side to side in the "no" fashion. She will repeat this several times. Put crayon in mouth. Look at Mommy. Think better of eating the crayon. Pull crayon out of mouth. Shake head from side to side. I think she is finally starting to get it. Sort of.