Why Horses and Stairs do not Mix
Here is a post that will surely add me to the list of "worst moms in the world." At least I sure felt like the worst mom when this incident occurred.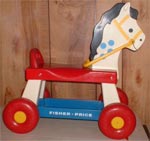 Adrianna has a little horse with wheels that she likes to play with. It was actually mine when I was her age. Mostly she uses it to let her babies, bears, walrus, zebras, or other favorite toys to ride it and go "bye-bye." Though she often sits on and plays with this horse, she never really rode it around much herself. Until yesterday.
Lynette and I were upstairs talking as I printed out my tax forms, in preparation of mailing them off to the IRS (finally!). Adrianna was upstairs with us, playing with the horse. I didn't really think too much about her playing with the horse nor did I think about the stairs. We usually trust her with the stairs these days because they are carpeted, there is a landing half-way down, and she has gotten pretty good at maneuvering up and down them. It never crossed my mind that she would attempt to ride the horse down them.
And here is where I feel like the worst parent in the world. We heard a loud thump, thump, and instantly my heart started pounding as I ran to the stairs. There was my little girl on the landing, underneath the horse. Thank goodness for that landing half-way down or she really would have taken a tumbling! I immediately flew down those stairs. I was SO scared! What if she was seriously hurt? My worst fears were quickly relieved when she quickly got up and walked over to me, crying. I felt like crying too. So after holding her, I checked her over for bumps, bruises, or broken bones. I am glad toddlers are so resilient.
And then my little girl did something that we can all take a life lesson from. She got right back on that horse. Never mind that she then wanted to ride the horse down the second set of stairs…
The horse lives downstairs now.