Bree at 8 Weeks
Sometimes I find myself sitting at my computer all evening, willing myself to come up with a scrapbook layout and coming up with nothing. This could be in part to my addiction to Facebook and reading blogs too. 🙂
To get out of my scrapbooking rut, I decided to try using a sketch/challenge over at Ella Publishing. It seemed to do the trick, as I was able to get another layout completed tonight. Hooray!
This is my Breezy girl at 8 weeks. She is really starting to interact and socialize with us more and just seeing her smile makes me smile too. I get a thrill of happiness every time I pick her up and hold her close.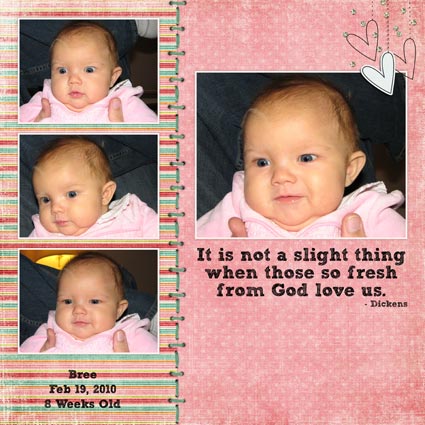 Credits: Layout based on sketch by Donna Jannuzzi found at Ella Publishing; papers from "So Sweet" kit by Zoe Pearn; hearts and sparkles from "Happiness" kit by Three Paper Peonies.
I think you can still get Zoe Pearn's "So Sweet" kit for free by subscribing to her newsletter here.