Free Digital Scrapbook WordArt – Isaiah 49:1
Yesterday, June 22nd, was the due date for our 2nd child. A flood of emotions has overwhelmed me as I try to imagine what our life would be like right now if I wouldn't have had a miscarriage, while at the same time I am trying not to think too much about it.
In spite of the sadness that is still there, I am doing okay right now. But I am hugging Adrianna a little closer, a little longer, and a little tighter these days. I am so thankful for the wonderful child I do have and for my supportive husband.
Anyways, after my miscarriage in November I made a scrapbook page using one of our ultrasound pictures. Though it took me two days and I cried the entire time, it was a healing moment for me. I made a WordArt of Isaiah 49:1 for the page that I would like to share. I think this verse is encouraging for both expectant mothers in good, healthy situations or for those grieving the loss of a child.
My Scrapbook Page: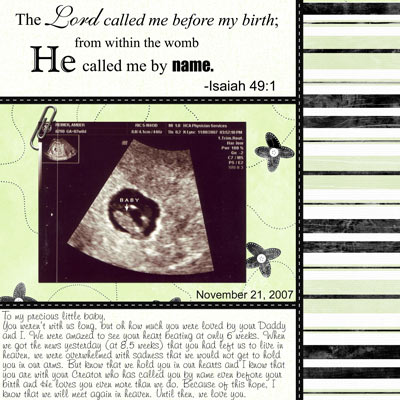 Credits: Paper & Elements from Shabby Princess' Urban Kiwi Kit
Click on the Word Art preview to be taken my no-wait download page.


Thank you for letting me share with you.