Free Digital Scrapbook Kit
Wow, I am overwhelmed by the amazing and supportive comments you have all left me on my last post. Thank you so much for the outpouring of love and encouragement and for sharing with me. Not only are your comments all very appreciated and read over and over, but you bring a smile to my face AND inspire me to want to make more freebies for you all. 🙂 Thank you all so very much. I love being a part of the digi-scrapping community. You all are so wonderful!
So after several late nights of experimenting with brushes and skimming the net for tutorials, I have finally finished my fourth kit. Once again, my creativity leaves me when it comes to thinking up a name for it, so…say hello to No Reimer Reason's Kit #4. LOL. It was inspired by a picture of my daughter and her brown teddy bear, cuddled up under a blue blanket, hence the blues and browns, but since it didn't actually include any teddies I didn't feel right incorporating those into the title.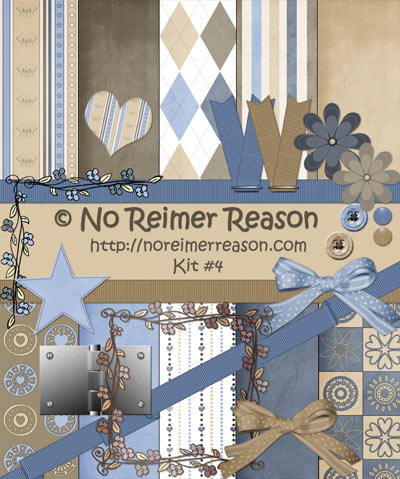 This kit is rather large, so I wasn't able to include all of the embellishments in the preview. It includes:
6 patterned papers
4 solid papers
2 bows
2 brads
2 buttons
1 corner doodle
1 frame
2 flowers
2 hearts
1 hinge with screws
1 paperclip
2 straight grosgrain ribbons
2 folded grosgrain ribbons
2 folded/stapled grosgrain ribbons
3 stars