Our week in review
This past week has been a fun one. Adrianna's Aunt Kristi made the long drive out here and we had a nice visit. Adrianna was thoroughly spoiled. Truth be told, so were Greg and I, as Kristi kindly got up with Adrianna on the mornings where we didn't have to work, which meant we got to sleep in. Oh, blessed sleep.
Most of the week was a nice, lazy one. We did go out to eat a lot though, which is really pretty normal for us. On one excursion, Adrianna fell in love with this singing animal trio at Cracker Barrel. It was a pig, goat, and cow that "sang" Deck the Halls by mooing, oinking, and baaing. They were all decked out for Christmas caroling and it was a very cute toy. Adrianna quickly learned how to turn it off and on and did so repeatedly. She also gave each of the animals many kisses on their noses (complete with a loud smacking mmm-aaa sound that she can only have learned from her Mommy), stroked their heads, and wrapped her arms around all three of them quite often with big, baby hugs and patted them with her little hands. It was so darling that I was ready to buy the toy for her on the spot, but at $40, Daddy put his foot down. I will just have to see if I can find it cheaper online, because she really did love that thing.
Yesterday we took a nice walk to a park near our house. Adrianna enjoyed climbing through a tunnel and going down the slides.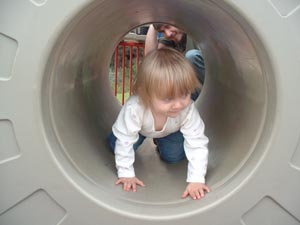 Daddy would help Adrianna at the top of the slide.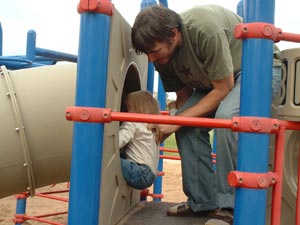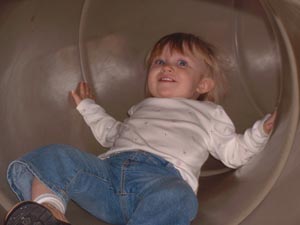 Aunt Kristi would catch Adrianna at the bottom of the slide.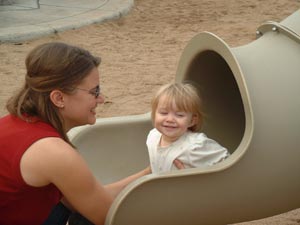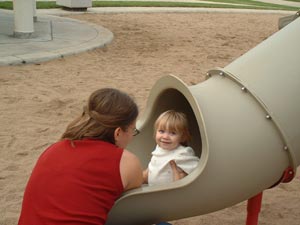 Even Chloe and Molly were happy to be along for the nice evening walk.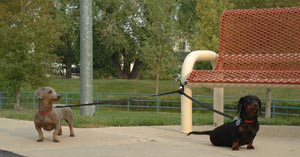 More good news for this week – my team has been moved under a new team/management at work. I love my new manager. I think he does a great job with communication, giving appreciation for hard work, supporting and standing by his employees, and everything else one would expect from a good manager. I am excited for this change and also to be a part of the team that I have actually been working closely with and supporting for 5 years. The team members are also great to work with and I love the relationships I have built with many of them over the years.