Homeschooling 2nd Grade
My 7yo daughter's homeschool co-op started this past week. She was so eager for it to begin again that she was counting down the days.
Now that she is in 2nd grade, we could choose the elective classes she takes. Here are the subjects she and I chose together:
1st Period:Â General Science
2nd Period:Â Computer Skills
3rd Period:Â Electronics
4th Period:Â Art
6th Period:Â Nature Crafts
7th Period: Kitchen Classroom
Doesn't that sound like a fun lineup?
Here is our 2nd grader on her first day of her homeschool co-op. 🙂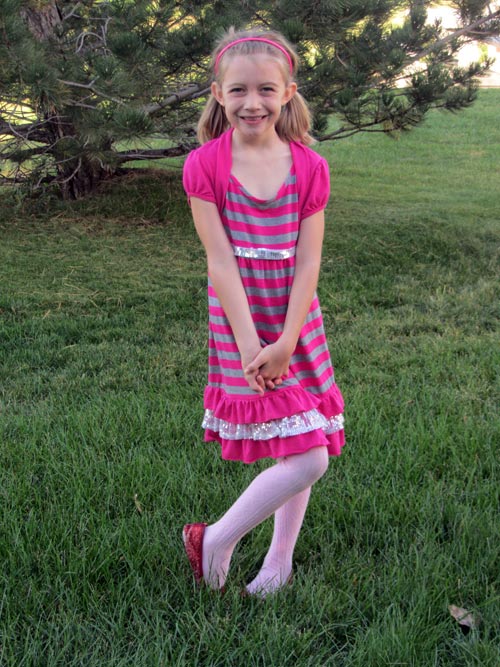 We just completed our third week of school work here at home. Here is a quick list of the subjects we are working on:
English:Â Bob Jones 2 (with a concentration on writing, proofreading, etc. this year)
Math:Â Abeka Arithmetic 2
History/Geography:Â Sonlight Core C
Reading:Â Sonlight with 3rd grade readers
Literature:Â Sonlight Core C
Spelling:Â All About Spelling and BJU Spelling
Handwriting:Â BJU Handwriting
Science:Â Sonlight
Health:Â Abeka
She also recently started taking a daytime gymnastics class. So far, she really enjoys it and is happily learning how to do cartwheels and is working on her balance on the balance beam.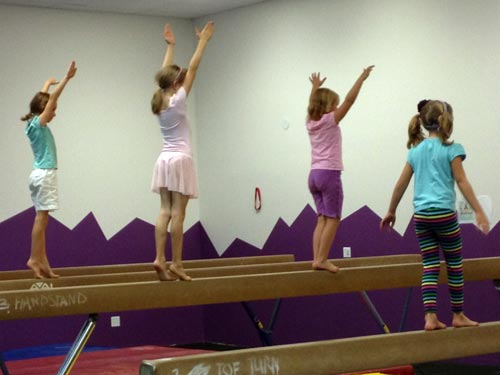 One big change for us this year was the decision to stop going to a local Music Academy for her music lessons. Although my daughter and I both loved the program, it was difficult for us to make it to class on time every week. Since parent involvement was required and younger siblings could not attend the class, we had to rely on my husband to rush home from work (which wasn't always an option for him) so we could leave our toddler at home with him and then leave to attend class. With another baby coming, I just didn't think it would be a good fit for us this year. So, we are starting regular piano lessons instead. I have a friend who teaches piano and as an extra bonus, she comes to her students' houses to teach. That sounds perfect! Lessons start next week.
So there is the rundown of what we will be working on in 2nd grade this year. Looking forward to another fun and busy year!