Scrapbook Layout – Science Experiment
This is a scrapbook layout of our first science experiment as a part of our homeschooling.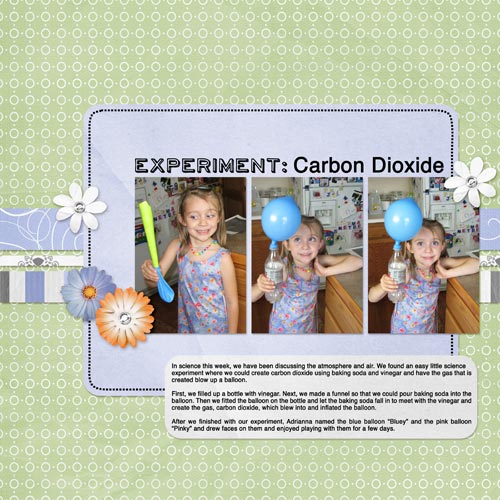 Credits: Layout created from a sketch by Allison Davis, Kit is "Sweet & Simple #10" by Gina Marie Huff
Journaling reads:
In science this week, we have been discussing the atmosphere and air. We found an easy little science
experiment where we could create carbon dioxide using baking soda and vinegar and have the gas that is created blow up a balloon.

First, we filled up a bottle with vinegar. Next, we made a funnel so that we could pour baking soda into the balloon. Then we fitted the balloon on the bottle and let the baking soda fall in to meet with the vinegar and create the gas, carbon dioxide, which blew into and inflated the balloon.

After we finished with our experiment, Adrianna named the blue balloon "Bluey" and the pink balloon "Pinky" and drew faces on them and enjoyed playing with them for a few days.