Free Printable Scavenger Hunt Cards for Easter
For Saint Patrick's Day, I found some fun and free printable cards on the Family Fun website to create a scavenger hunt. (Image is linked up to the original source if you want to download too!)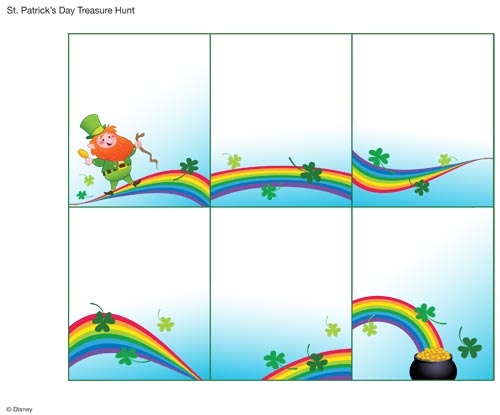 To start the hunt off, I upturned some furniture in the playroom and scattered green sequins all over the floor so that it represented leprechaun mischief. Then, right near the chaos, I had taped the first card, that was supposedly written by the mischievous leprechaun, to set them off on the hunt. The final clue was hidden with a handful of candy (the treasure).
My daughter and her friends loved it. LOVED IT. So much, in fact, that my daughter created her own scavenger hunt for me a few days later! She got up early in the morning and put it together while I was still asleep.
For a writing assignment at her homeschool co-op yesterday, she was supposed to list something she was looking forward to on Easter. She wrote that she was looking forward to another scavenger hunt. Uh oh. Guess we've started something here! So I created some scavenger hunt cards with an Easter theme.
I think what we'll do is hide an egg along with each clue. It will make searching for eggs a little more fun. Instead of a bunch of candy, I may do fun things like cute barrettes, lip gloss and other girly things.
Close-up of one card (each one measures 3 x 2.5 inches):


Credits: Cute bunny and heart brushes were created by Graphics-Illustrations
The free printable is an 8.5 x 11 JPG or PDF (your choice). You can import the file into Photoshop and use the text tool to type out the clues on each card before printing. The free download can be found on my Digital Scrapbook Freebies page.
Hope you have a Happy Easter!