Simplifying Scrapbooking Using Project 365
If I look only at my progress in taking at least one photo a day for the Project 365 resolution, I have to admit that I have failed. Miserably. I have gone through a range of ideas of what to do to salvage the project in my mind.
After my deliberation, it all came down to this: Do I continue with my original idea of making a separate scrapbook album of the Project 365 photos, showing a nice snapshot of our year even though there won't be a photo every single day? Or do I just give up altogether and just be glad for the extra photos to fill my albums that I might not have taken otherwise?
Option 1 still seemed like a good option, although it would end up being a much smaller album than originally planned. Option 2 seemed a bit daunting at first. Sure, I am thankful for the extra photos but that also means EXTRA scrapbook pages to create, and goodness knows I am already behind on scrapping my photos. So I decided on a mix of the two.
I decided that I would continue scrapping my "photo-a-day" photos, making one layout for the week of photos. Or sometimes 2 weeks to a layout since I didn't get an actual photo every day. But, instead of having these layouts be placed in a separate album, I will place them into my regular album. My albums are in sequential order, so they will simply be placed in order like any other layout.
After I made this decision, I began to realize how free-ing this will be for me. Here's why:
Even without considering the Project 365 photos, I often have a lot of photos where there is only 1 shot of an event or day. But if I still continue to scrap layouts that are a week's compilation of one photo per day, it would be an easy way to get many of them scrapped and journaled without feeling the pressure of making up to 7 layouts that consist of just 1 or 2 photos each.
Sure, the photos won't be of the same event or same subject matter, but they won't be expected to be since they will still be part of the Project 365 layouts.
Without the pressure to complete so many separate layouts for the extra photos that don't have a "place" or a special memory to warrant their own page, I will *maybe* catch up on my scrapping for the year. (haha, if only!)
I will still get that snapshot of our everyday lives with these layouts, which is what I was hoping for.
I am keeping my Project 365 layouts very simple. Uniform background. Simple titles stating the week and dates. Photos. Simple journaling for each photo. I often reuse the same templates and just flip them. Quick and EASY!!
Example:
Some of these photos are ones that I would have wanted to include in my scrapbook album even though I only had 1 from the event. But instead of having to make several 1-photo layouts, I can make ONE multi-photo layout of our week, including journaling. In doing so, I also capture a snapshot of our week in some of the other photos that might not have normally been deemed "scrap-worthy" even though I am glad to be able to look back at them now with this layout and still remember what was going on in our lives.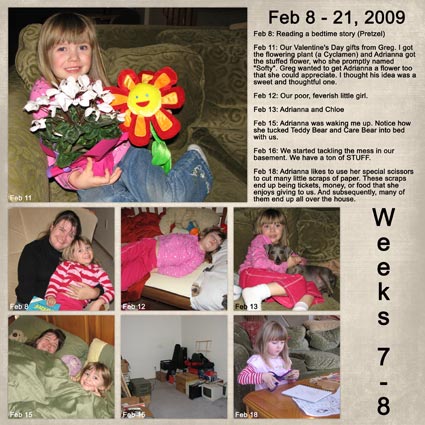 After getting started with this idea, I have been able to scrap 2 months worth of photos in less than 1 month. This includes my regular layouts and the ones that I put onto my Project 365 layouts. Hooray!
How are you doing with your Project 365 goals, photos, or layouts?