Scrapbook Layout – 5 Strand Braid
I made this layout tonight as a part of the speed scrap at GDS. For a speed scrap, you receive a set of instrx to follow over the course of an hour and and then you have to complete a layout within a short amount of time, usually the hour following. It is fun and forces me to make a layout different from my normal style. 🙂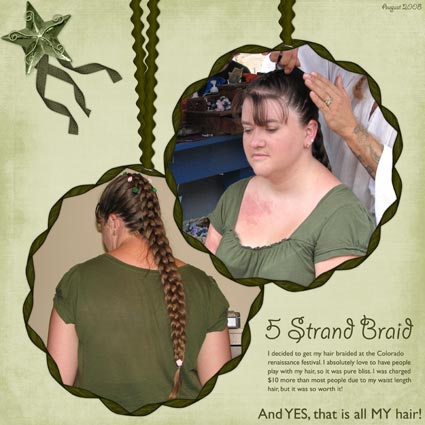 Credits: The curly ribbon and ribbon frames were created by Creative Dreams. The star and the ric-rac were created by me.
The journaling reads:
I decided to get my hair braided at the Colorado renaissance festival. I absolutely love to have people play with my hair, so it was pure bliss. I was charged $10 more than most people due to my waist length hair, but it was so worth it! And YES, that is all MY hair!