Free Embellishment Extractions
Our second assignment at Funky Playground Designs was to make an embellishment pack using real items that have been extracted. Even though I am not in the running anymore to win [insert sad face here] we get to remain part of the apprenticeship program as long as we complete the assignments on time. And considering that I was up against many "established" designers who have been at this a lot longer, I am trying to not get too discouraged.
Extractions are tough! I have only done them a couple times previous to this assignment and I can see why now. They are extremely tedious and time-consuming. And my wrist hurt from holding the mouse and fine-tuning the edges for so long.
Anyways, here is my embellishment kit. I didn't really go with much of a theme other than extracting some of my favorite types of embellishments that I like personally to use on my layouts. And that most of the items start with the letter "B".
The link to download can be found at Funky Playground Designs or by clicking on the preview below. You do have to be registered for their gallery to view/download, and we are only allowed to keep the download posted until 9:00 a.m. EST on Monday, August 11. (After the contest is over at the end of August, I can then put them into my freebie gallery and do whatever I want with it.)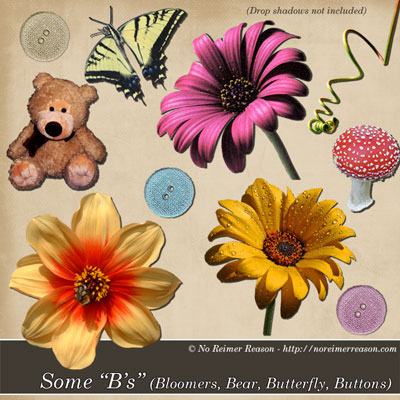 I am especially pleased with how the flowers and teddy turned out. I digitally enhanced the daisy and the teddy bear a little bit after the extraction too.
I would have liked to refine the vine and the toadstool a little more, but well, I ran out of time. Maybe I can do some more refining after the contest is all over.
Friends and family may recognize the teddy bear as none other than Adrianna's own much-loved teddy. This picture was taken prior to all the loving, when he still had a nice color and a pretty ribbon. 🙂