Water Fountain
Today Adrianna and I visited a water fountain with her friends from childcare. I never realized this free place was there and so close by. The water shoots right up from the ground and is made for kids to run through. It seems to be a popular place for moms with young kids.
Adrianna is fascinated by water, but she was still pretty hesitant about getting near it at first. Even when I carried her through the water, she was still scared and would not let me put her down. But after watching the other kids having a good time in the water, her curiosity got the best of her and she joined in the fun. The water shoots up pretty high so she still stayed on the outskirts and preferred to stay near me or her big "brothers" Sean and Shane, who she adores. I think they really like her too.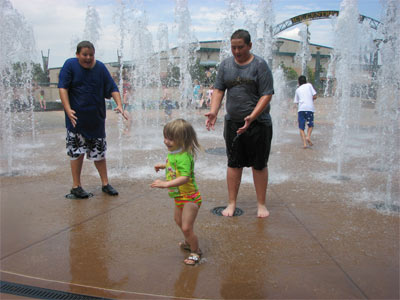 After a moment of bravery, she would run back to where I was sitting on a bench to work up her courage again or to snack on goldfish crackers.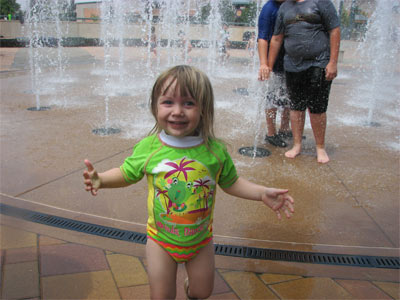 When we got home after playing in the water, it was nap time. As soon as Adrianna woke back up, she was chattering about the water.
This evening we went to Toys 'R Us to buy some new toys for Adrianna. She loves trains so we thought it would be cool to get her a little train set. Greg also wanted to upgrade her Legos from Lego Quatro to Lego Duplo now that she is older. Although I think he really just wanted the Legos for himself.