Oh Toodles!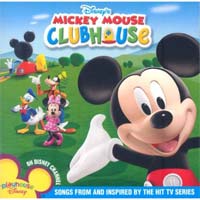 Adrianna's favorite show is Mickey Mouse Clubhouse on the Disney channel. She asks me quite often if she can watch "Mimi Mouse." Thank goodness for tivo. This animated show is interactive, with the characters prompting the audience to count out loud or to say certain things at certain times while following different clues to solve puzzles. One of the phrases is, "Oh Toodles" which calls the Mousketools, which are various tools that will help Mickey and the gang solve their dilemmas. Adrianna doesn't always follow the prompts, but that doesn't mean she isn't learning. Lately we have heard her call out, "Oh Toodles" during her play with her bears or from her crib.
At the end of each show, the characters all gather back at the clubhouse and dance and sing a song that goes, "Hot Dog. Hot Dog. Hot Diggety Dog." Whatever that means. But Adrianna likes it and will say, "Hot Dog!"
She joined five words together in a sentence today at childcare. According to Janette, Adrianna said, "I want more mashed tatoes" at lunch time. She's just like her daddy in her love for mashed potatoes.