Official Parenthood
We broke down and purchased a minivan last night. Gasp! I guess you could say we have officially entered parentdom. Actually, I am quite excited about the van. It will give us so much more room on road trips since we usually have not only ourselves but our two dachshunds too. Greg is happy that he will now have room to pack his guitar and/or banjo when we go places.
The minivan is a silverish 1997 Chrysler Town & Country LX. It has almost 80,000 miles on it, which is actually about the same amount that our 2002 Corolla has (which we had bought new).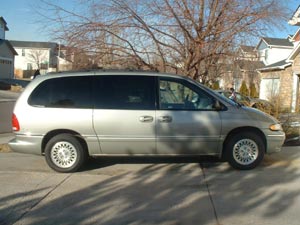 It is amazing how long it takes to buy a vehicle from a dealership. All the rigmarole you have to go through. We were finally brought into the office to sign all the paperwork after spending two hours at the dealership. Up to that point, Adrianna had been really well-behaved and patient. But when we got to the office, she started to cry. She must have saw the figures for our monthly payment.

No worries though; our monthly payment won't really be too bad since the vehicle is used and we put a nice chunk of money down. She was really crying because she has this whole thing right now where she is scared of men, excepting her daddy of course.