Mimi Mouse
Yesterday evening we decided to go out to eat for dinner. At first, Adrianna did not want to cooperate with me when I tried to put a new dress on her. But once I showed her who was on the dress, she was more than happy to let me put it on her as she excitedly exclaimed and pointed, "Mimi Mouse!" (Mimi Mouse can be either Mickey or Minnie Mouse.)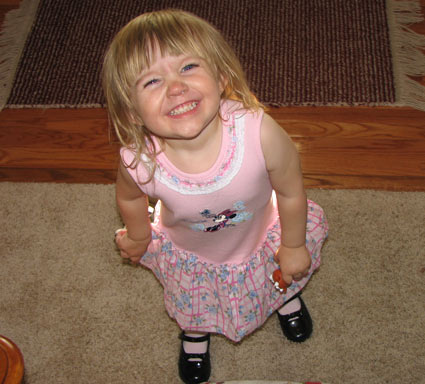 We went to Applebees for dinner. They had helium balloons there, so we got one for Adrianna. She loves balloons and enjoyed bopping the balloon up and down as we waited for our food. Unfortunately after awhile, the string came off of the balloon so it floated up to the ceiling. Poor Adrianna. This surprised and upset her greatly and she cried quite a bit over it. Real tears. So I took her outside until she calmed down. After a good cry, she did calm down but she could not get the balloon out of her mind and kept talking about the "boon." When we went back inside, her eyes were immediately riveted back up to the ceiling. The balloon was still there, but she was okay with it.
It was still light out when we were done, so we decided to go to a park. Adrianna enjoyed running around and going down the slides. I enjoyed some time on the swings.
The evening was closed with yummy ice cream from Dairy Queen.
These are my some of my favorite moments. Spending time as a family and watching Adrianna have a good time playing.