Adrianna's Second Birthday
Today is Adrianna's second birthday. We had a little party for her over at our neighbor's house with all her little friends from childcare.
One of the first things we did was have Adrianna blow out two candles on her cake. It took a few attempts, but she got them out on her own. Then it was time to dig into the chocolate cake we had bought for her. All the kids really enjoyed the cake. Adrianna liked it so much that she ended up wearing some of it.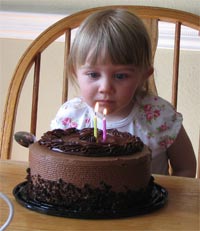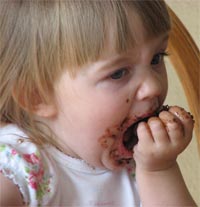 The biggest hit of the day was the helium balloon we got for Adrianna. She played with it most of the afternoon and evening. She loves her "boon." But no matter how cool a new toy may be, there is always time to cuddle a bear too.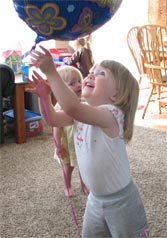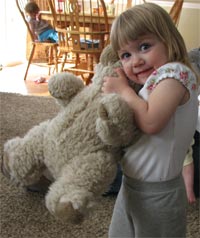 Another gift Adrianna received for her birthday is a playhouse. We actually gave it to her last week. She enjoys playing in this house quite a bit. One of the first things she did was drag most of her toys into the house. Sometimes she will invite us to come in and join her by opening the door and beckoning to us while saying, "In." I am taking advantage of the invites, because I know someday she will be a teenager with a sign on her door that says "Keep Out."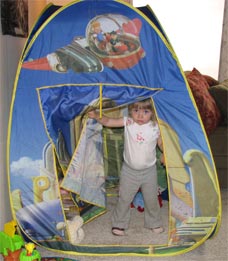 Adrianna also got a present in the mail from her Grammy and her Grampy. She insisted on wearing the shorts on her head.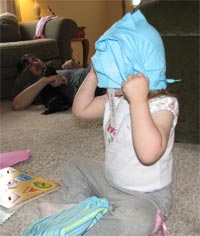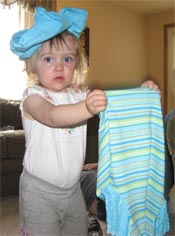 Since it was her birthday, we let her choose what we were going to have for dinner. She wanted "ghe-ee" so we got spaghetti from Fazoli's. All in all, it was a fun day. I cannot believe my baby is 2 years old.
More birthday pictures can be found in my Picasa Web Album.
Update: Here is a video of Adrianna singing "Happy Birthday to You."