Our Christmas
Our Christmas turned out quite nice. It was just the three of us, so everything was very casual. We slept in, had a simple breakfast, and just relaxed most of the day. I just had to take a couple pictures of Adrianna in her bloomers though; so adorable!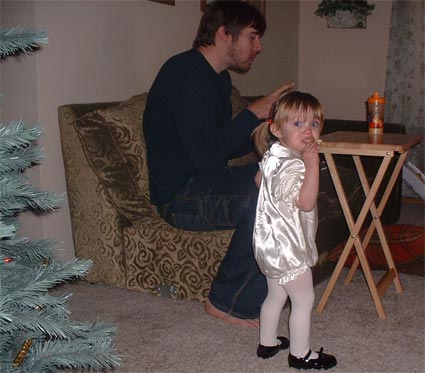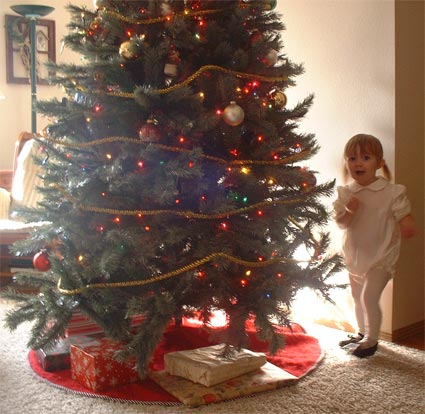 Adrianna loved each one of her presents. She wanted to play with each one after it was opened, so we took things slowly. Another reason we took things slowly is because she somehow had it in her mind that each piece of wrapping paper that she tore off a gift, no matter how small, needed to be thrown away before the next little piece could be torn off of the gift. We found a box for her to put the pieces in, so it became a long process. Tear. Throw away. Tear. Throw away. Greg and I had a good laugh over our fastidious toddler. We also started "helping" her to rip off larger pieces of paper at one time to help the process along a little.
Adrianna got a See 'n Say Farmer Says and a puzzle with Farm Animals from us. She got a Little People Noah's Ark from her Grammy and Grampy. She enjoyed each of the presents so much that I decided to keep some of the other Little People animals I had bought for a later date.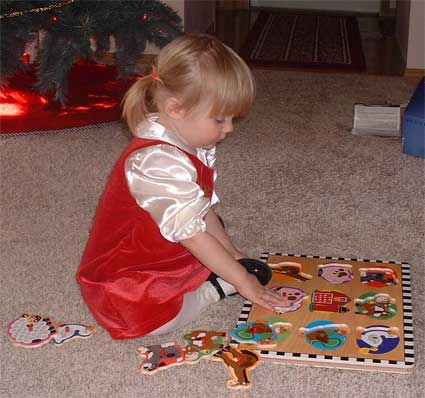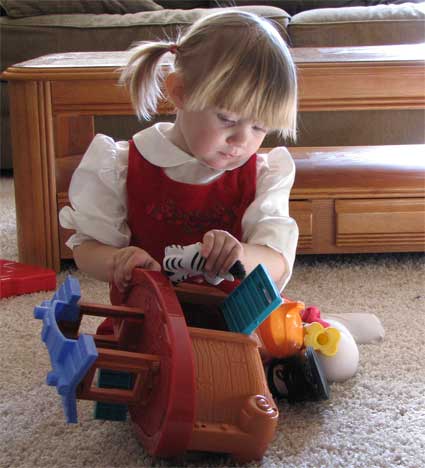 Greg got some warming slippers for his gift from his Secret Santa. He also recently bought himself a new bass guitar, so I think he had a pretty good haul. From my Secret Santa, I received The Sim2: Open for Business game expansion pack for my computer. It has kept me up several late nights already, as that game is so addicting.
The present Greg bought for me is actually a gift for the two of us: a new Canon digital camera. It is amazing and is so much faster than our older digital camera. I was thrilled when I opened it up.
Greg is very excited about our new camera. He has been doing a lot of practicing with the different things it can do. While most of the pictures were deleted, I secretly just had to keep this one because he is just so darn cute.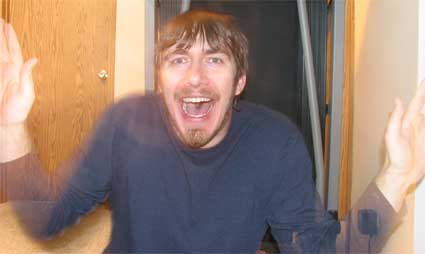 Adrianna helps Daddy play the banjo. She is such a good little helper.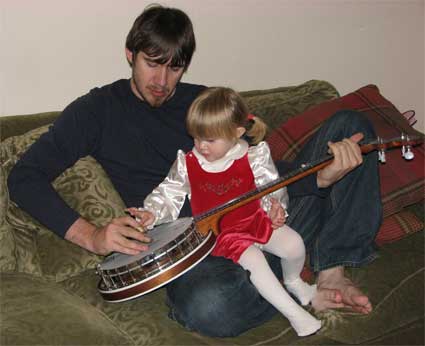 Hope you all had a Merry Christmas!