Thanksgiving Vacation…Part 2
Dave and Marilyn had invited two Nepalese students from a University in Wichita to spend Thanksgiving day with us so they could see an American Thanksgiving. This was their first time in an American home too. It was very interesting to talk to them and hear about their new experiences here and to hear about Nepal. Sanjay and Bibek were both very polite. When they first came inside, they folded their hands together and bowed slightly and said, "Namaste." They also brought postcards and a gift as a thank-you for Dave and Marilyn for hosting them.
Sanjay was very quiet and shy but Bibik was very happy to answer all of our many questions about themselves and their country. Bibek is from Kathmandu and Sanjay is from a region south of there (I think). Sanjay is studying biochemistry and Bibek is studying information technology, so Bibek and Greg especially had a lot of things to talk about.
After a delicious meal, the family taught them how to play Farkle. Bibek won.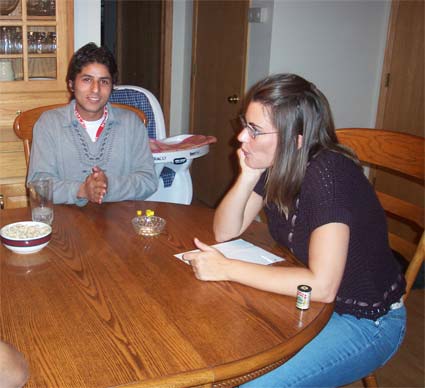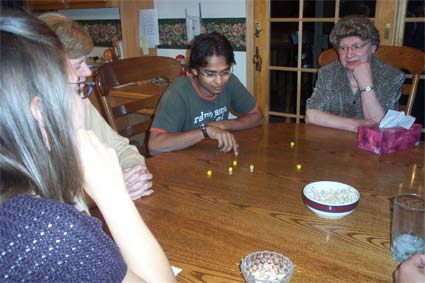 Bibek also told us about his bungee jumping experience in Bhotekoshi, Nepal which is over 500 feet high and boasts (from their website) that they are one of the longest free falls in the world. You can see the video of his experience at Youtube.com.
I am really glad that Dave and Marilyn invited Bibek and Sanjay to share Thanksgiving with us. I enjoyed meeting them and hear about their different culture. That evening, you can bet I was looking online to learn more about Nepal and to see pictures too. It looks and sounds like a very interesting and beautiful country.
Group picture: Dave, Marilyn, Kristi, Grandpa Reimer, Grandma Reimer, Amber, Adrianna (petting Molly), Sanjay, Bibek (holding Chloe), and Greg.