Here, Let Me Wipe Your Face
Adrianna and I spent another delightful afternoon at the zoo. Adrianna's favorite animals today were the birds (buh) and elephants (Tsa-sa).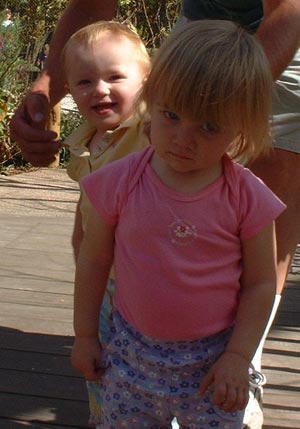 While we were in the Lorikeet Adventure so we could see the birds close up, another little girl spotted Adrianna. She was a cutie. This little girl had just gotten her face cleaned up with a paper towel by her daddy. When she saw Adrianna, she decided to share the face wiping. She came right at Adrianna and wiped her face with a paper towel. Several times. It was the cutest thing. Adrianna took it well. After all, she too is used to having others clean her face up quite often, like it or not.
The other little girl's dad picked her up and moved her away so Adrianna could have some peace. But the little girl kept coming back for more every time she saw Adrianna. She really loved Adrianna. After awhile, Adrianna had enough and was trying to make a get-away, as you can see by this picture. The expressions on the girls' faces tell the whole story.
I couldn't help but laugh throughout the entire episode.