Pigtails and 'Pasghetti (Scrapbook Page)
I made this page using (mostly) Adobe Photoshop. It made for an easy way to fit 6 pictures all on one page. The orange background was taken directly from the color of the spaghetti on Adrianna's face (using the eyedropper tool).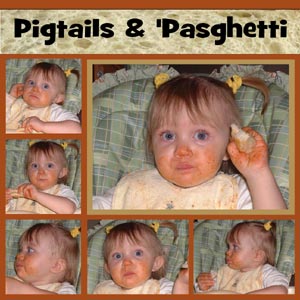 This page is of Karen's college graduation back in 2004. It was created with the assistance of Scrapbook Factory Deluxe and some free e-cuts that I downloaded from computerscrapbook.com.