Just Miscellaneous Thoughts
Adrianna is turning into a little monkey. She loves to climb up on our furniture. She'll rock in the rocking chair, bounce on the cushions of the couch, and walk around on top of the coffee table.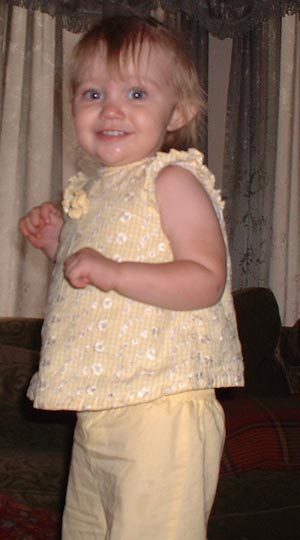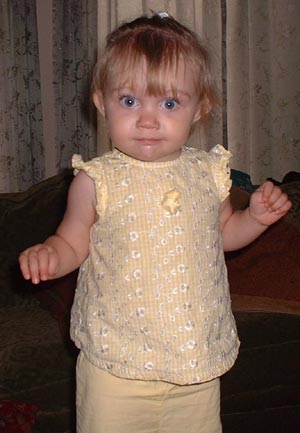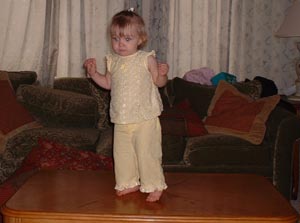 On the days where I work and Adrianna is in childcare for part of the day, Greg is usually the one responsible for getting her ready and dropping her off at the neighbor's house. This is really nice for me, because it is so hard for me to have to actually do the dropping off and leaving. Since I went in to work late yesterday because of Adrianna's eye appointment, I got to be a part of the morning routine and the later dropoff and childcare. It was so tough.
Adrianna has a little game that she plays with Janette when Greg drops her off. Adrianna will smile at Janette but then when Janette reaches for her, Adrianna acts all shy and turns away while holding on to Greg. But she always has a good time at Janette's and doesn't really make a fuss when Greg leaves. But yesterday was a little tougher. Since I was there and we were taking her over there later than usual, her schedule was thrown off. She did the usual game with Janette but she would not let me go. It really tugged at my heart. She didn't cry though and wasn't upset about being there. She just wanted me to continue holding her. After awhile, Janette coaxed her inside with the other kids by showing her a much loved dollhouse. Then, Mommy and Daddy were completely forgotten in favor of the toy and other children. I was glad to see firsthand just how good a time she has over at Janette's.
My cuddlebug is now sleeping soundly in her crib with her bears. The first thing she does when we put her in her crib at night is reach for her big bear and give him a big "bear" hug. Her face always lights up at the sight of him.