A Day at the Zoo
Today Adrianna and I spent the afternoon at the Denver Zoo with Janette and the other kids in her childcare. Another mom went along too. And let me tell you, I am exhausted. It was hot today and we walked all over the place and also had to walk several blocks from our parking spot just to get into the zoo since it was so busy. As Greg would say, "My dogs are barkin'"
Besides us three adults, we had quite a few kids along: a three year old, a two year old, Adrianna (at 14 months), an 11 month old, and two five year olds. What a troop! Also along were Janette's two older sons (12 and 11) and one of their friends who is also 11. The three older boys were such a help to us, offering to pull the wagon or push the two strollers and also helping to keep an eye on the younger children, who are prone to wander as most children are.
This was my first trip to the Denver Zoo since I was a little girl. It is a pretty nice zoo and we enjoyed our time there. I don't think we hit half of the exhibits and such, but I bought a membership which means that I don't have to pay admission for a year for our family. So I hope to go back with Adrianna a few more times before that year is up.
Today we saw:
Flamingos (Flamingoes?)
Elephants
Black Bears
A Grizzly Bear (Scary!)
Kangaroos
Zebras
Giraffes (including a small baby one that was adorable)
Gorillas (including a baby one that is the same age as Adrianna – 14 months)
Cheetahs
Penguins
Sea Lions
Polar Bears (I think these were Adrianna's favorite – she kept proclaiming "Da! Da!" whenever she saw one.)
I am sure there are more animals that we saw too, but those were the main highlights for today.
For our trip, I went out and purchased a little red wagon. It worked out great. Adrianna seemed to enjoy riding in it, and we were also able to let the other children hitch a ride with her when they got tired.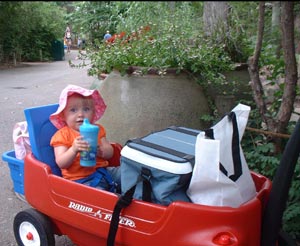 Speaking of tired, after I put Adrianna into her carseat in the van, she was asleep before we even left the parking lot. She slept all the way home and then, after I moved her to her crib, she slept for another hour and a half.