A Complete Distortion of the Facts and the Best Concert Ever
For going on two months, I have been keeping something from Greg. I invented some falsehoods which you might call "lies" but I am preferring to look at it as a "complete distortion of the facts in order to accomplish a wonderful surprise" rather than outright lies. You can call it what you will.
In February, I discovered that our favorite band, Nickel Creek, was going to be in the area. Well, Colorado Springs anyways. This group is AMAZING. When I found out they were going to be in concert, my first thought was to jump up and down in excitement and chatter on and on to Greg about how we just had to go. Then I thought, "Hey, wouldn't it be fun to order tickets and then just surprise him with them on the night of the show?" I went with my second inclination.
After ordering the tickets a day before they went on sale to the general public via a radio station that I am a "member" of, I realized that I would need to find a babysitter for Adrianna. Cue our good friends Shad and Lynette, who just happen to live in the town where the concert is going to be held. I emailed them, and they agreed right away to not only watch Adrianna but assist me in my deception, making them my partners in crime.
Now that the tickets and the babysitting was in order, I needed to come up with a believable excuse for why Greg and I would need to drive to Colorado Springs, two hours away during rush hour traffic, on a Thursday evening. Here is where the distortion of the facts came into play.
A week before the concert, I told Greg that another friend of ours from Springs, Kristy, was throwing a surprise birthday party for her fiance and that we were invited. This way, I figured, Greg would not only keep the date free but I would then have my excuse as to why we had to go all the way to Springs.
Next, I emailed Shad and told him my little fabrication. I asked him if I could send him an email to ask him to babysit for that evening since we had a "surprise birthday party" to attend and told him I would be copying Greg on the email. He said that he would play along. Remember, they were already planning on watching Adrianna, so this was all show for Greg's benefit. So I sent Shad the email with Greg carbon copied on it. Shad responded that of course they could help us out and even threw in a "Tell her fiance happy b-day for us =)" for good measure.
So, we drove down the Colorado Springs yesterday evening and Greg was none the wiser. In fact, he was asking me questions about the party. "Are you sure I am invited too? Did Kristy call and invite you and say, 'Oh, and Greg can come too' or did she say, 'You and Greg are invited?'"
After we dropped Adrianna off at Shad and Lynette's, we headed off to the "birthday party." I had told Greg that they rented out a room somewhere, so when I had to read off directions on how to get there, he didn't think anything of it. I thought for sure the gig would be up when we pulled up to the big Pikes Peak Center where the concert was to be held, but he just assumed the rented room was in there. We had never been there before, so he didn't really have any reason to think otherwise. We had to park in a parking garage, and were charged more than the regular posted parking price, which made Greg ponder aloud, "I wonder if there is a special event going on too?"
Other people were walking in as we were, so I handed him his ticket and told him that he would need it to get in the door. I just couldn't contain the surprise or my excitement any longer. He looked at the ticket for a moment, confused. Then, he gave me a huge smile and told me I was awesome. Yep, I was feeling pretty awesome at that point. For those of you who know me, you probably also know that I am horrible at being able to lie. I am so NOT believeable. But Greg told me later that he didn't have a clue. Not even an inkling. He even went on to ask me where we were meeting Kristy for the concert. Poor guy, I really had him going. But it was just us.
So, on to the Nickel Creek concert. There was an opening band, Matt Pond PA. They were okay as far as bands go. I liked how they had a cello as a part of their ensemble. But I was so antsy to see Nickel Creek.
We took a few pictures with our camera phones. Unfortunately the stage shots do not do our seats justice, making us look much farther from the stage than we actually were. We had pretty decent seats.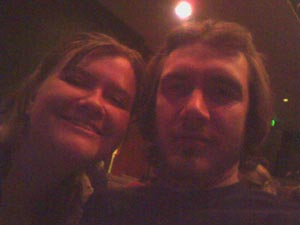 Nickel Creek was so worth the wait. Their performance had me in awe from the first song to the last. Their voices blend so beautifully in harmony that it brought tears to my eyes, especially during one of my favorite songs, Reasons Why. The whole band is just so wonderfully talented. I never would have thought that someone playing the mandolin could just totally rock out, but Chris Thile proved that misconception wrong. His fingers flew over the strings. Sara Watkins makes her violin sing and Sean Watkins is a talented guitar player.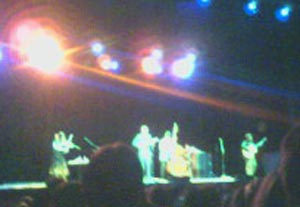 One of my favorite moments was when their bass player started clogging during one of their faster bluegrass tunes. And their banter between songs was fun. I enjoyed how Chris put a rowdy, insensitive audience member in his place with humor that made the rest of the audience reverberate with laughter. Sara was barefoot up on stage, which made her even more endearing and cute. They played almost all of my favorite tunes, with the exception of The Hand Song and The Lighthouse's Tale. They also did some I was not familiar with that aren't on their regular albums. One thing I especially appreciated was that they added additional instrumental solos or played the songs different than how they were originally recorded. It made the whole concert even more exciting, because you didn't know where they were going to take you next, but you knew wherever it was they were going, it would be amazing and you were thankful to be along for the ride. They even added a verse to House Carpenter. I was leaning forward in my seat the whole time in anticipation and awe.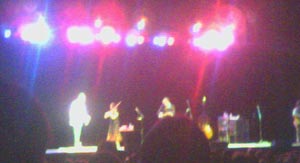 I didn't want the concert to be over. Thankfully, they came back out and did a half hour encore. Some solo songs, more bluegrass tunes, and ending with When You Come Back Down while the whole audience sang along, transfixed by the music genius before us and the sadness that all good things must come to an end.