Adrianna's First Encounter with the Easter Bunny
Adrianna and I met my mom and my sisters in Cheyenne today for a girls' day. We spent all afternoon shopping – what fun! We also ran into the Easter Bunny at the mall, so I shelled out an ungodly amount of money for a cute picture of the Bunny with Adrianna on his lap.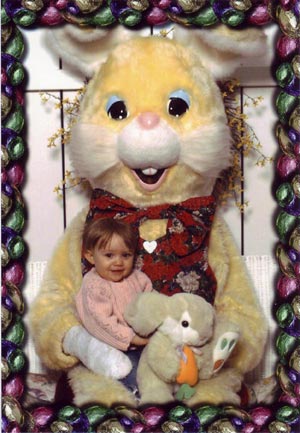 I wasn't sure how this daughter of mine would react to a huge, silent rabbit, but she wasn't too fazed by him. I brought her over and let her look at him awhile as he waved at her and tried to appear harmless and not scary. She reached out her little hand and I figured all would be well. I set her down on his lap and she was fine. When they brought out the little bunny, she really started smiling.
We also made a quick stop by the pet store. Pet stores depress me. I always feel so bad for the poor dogs and cats that reside there. But I am always drawn in nonetheless to look at all the cute puppies. Adrianna really enjoyed watching the puppies today. She cried when we left because she wasn't done observing them. We also looked at some birds, and when I told her they were called, "Birds" she said something to the effect of "Bah." Being as "Bah" is not a normal part of her vocabulary, I am pretty sure she was trying to imitate my saying "Bird. See the Bird? Bird. Pretty Bird. Can you say Bird? The birdie says, 'Tweet, tweet.' Bird." to her over and over. Or maybe she was just letting me know that she understood. Yes, Bird – I get it mommy. You only have to name it once!