Pregnancy News
No, I am not pregnant. But my sister is! We have actually known for awhile, but were waiting until she was further along to really share the news. And here's the really exciting part – she's expecting twins! The proud papa, Kendall, is also a twin (fraternal). We don't know if her twins are fraternal or identical yet and it is too soon to tell the sex. The babies are due in September.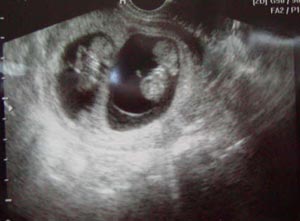 Cindy and Kendall came to visit this weekend. I had heard of a Darling Doubles sale, so we all wanted to take advantage of being able to buy used baby stuff at decent prices. Especially since they will need two of everything! I have stuff from Adrianna's earlier days that they will definitely be able to borrow, but I don't have doubles. And since this was a large sale put on by other moms of multiples, Cindy and Kendall were even able to find some matching outfits for the babies and two matching baby carriers too. So cute!
While Cindy and Kendall were here, we also took time to play lots of Tetris and Dr. Mario on our Nintendo 64 and MarioKart Doubledash on our Gamecube. Dr. Mario has to be one of my favorite video games ever, and both Cindy, Karen, and I share that love and kick butt at it!
This evening after Cindy and Kendall left, Greg, Adrianna, and I hung out in downtown Denver with Shad, Lynette, and Shad's parents, Ken and Carol. We had the most excellent dinner at The Cheesecake Factory. And of course cheesecake. We then spent some time wandering around the 16th Street Mall where Carol was serenaded by a drunk man on the bus. Good times.