A brief look into our day
Adrianna scooted her way (backwards) underneath one of our dining room chairs. She still hasn't started crawling. She is SO right on the brink, but I guess I have been saying that for weeks now.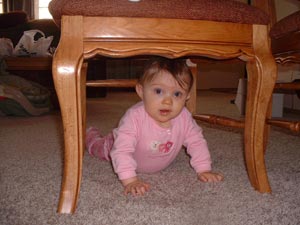 Here she is, acting like she is going to share her Arrowroot biscuit with me. But I know better.

Adrianna's bangs were getting so long that I actually had to trim them back. I was getting tired of brushing them back or to the side. I think they are totally cute now.