Journaling Sources for Older Events
I am so glad I looked into the whole Project Life Movement. I often get hung up on how I want my page layouts to look and this takes a lot of the stress and work out of that process for me, allowing me to get more memories captured! I also love being able to put several unrelated events together in a way that makes sense so that the memory is still captured when normally they may not make the cut to get a page of their very own.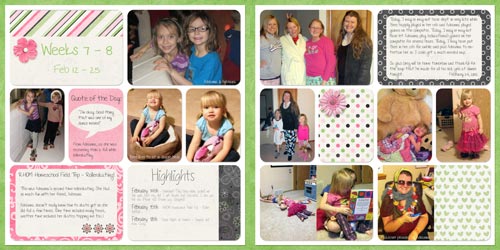 I am still scrapping my pages digitally. I am also not strictly keeping each two page spread as just one week's worth of time covered. Some of them span two weeks's time and I won't hesitate to have them span three weeks' time if necessary (due to a lack of photos, events, etc.)
The layouts I am posting today are strongly influenced by these beautiful pages by Maegan Birr.

Because many of the layouts I am putting together are from many months ago, I am using several different resources for my journaling.
Facebook
Now that so many people update their statuses and upload their photos to Facebook as events are happening or shortly thereafter, it can be a helpful source for writing about your daily life and photos many months or years down the road. I simply browse to my timeline, scroll to the year/month and copy and paste my statuses in as journaling onto my scrapbook page.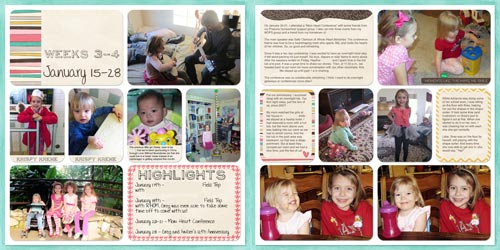 Personal Blog
I have a personal blog that I use for longer updates about my kids and family than what I put on Facebook. Even though I don't update it as often as I do my Facebook status, it still contains many memories and more in-depth journaling for my pages.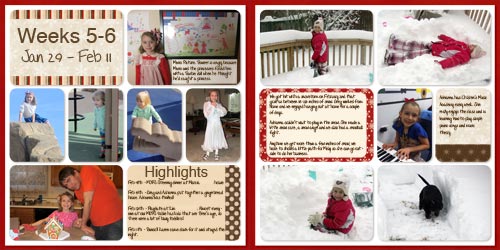 Personal Calendar
If my Facebook Timeline and Blog don't contain a lot of information about a week that I am trying to scrapbook, often a peek at my personal calendar will help jog my memory or, at the very least, give me a glimpse of the events we participated in.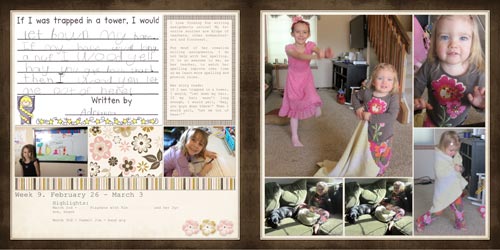 All of the scrapbook pages on this post were created around 9 months after the actual events/weeks they represent, but using these three methods allowed me to still get adequate journaling about the people, events and memories I wanted to capture.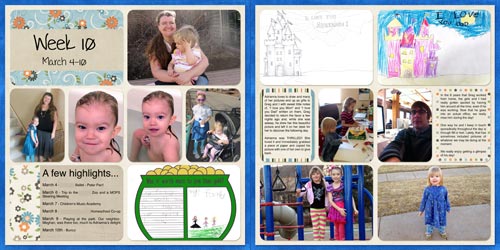 What sources do you use for your journaling and/or to jog your memory about an event?