Photoshop – Automate / Crop and Straighten Photos
I just love when I stumble across something that makes my life simpler or easier. In this case, it is a Photoshop feature that I was unaware of until recently.
I am in the process of scanning and editing my old baby photos from the late 1970s. The photos are pretty well stuck in their photo albums, making it difficult (if not impossible) to remove them without causing any damage. So instead of removing them, I have been scanning the entire page. This leaves me with a scan like this to work with:


I was then cropping each photo individually from the original scan and doing a Save As to begin my edits. Then, thanks to a Google search, I came across this quick automation feature in Photoshop. (I am using Photoshop CS3.)
With the original scan of multiple photos open, go to File/Automate/Crop and Straighten Photos
That's it! Photoshop will automatically detect, crop, and straighten the photos from your scan. A new file is created for each of the cropped photos. (Please note that these new files are not saved to your computer until you manually do so.)
I have to say it does a pretty good job on the scans I have used it on so far. Here is a screen shot of the new files that were created from my original scan.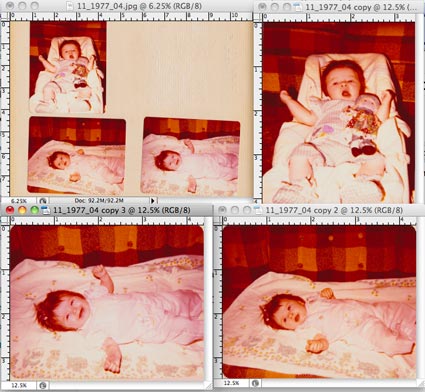 I am told that Photoshop Elements has a similar feature under the Image menu called "Divide Scanned Photos."