Multi-Photo Challenge and FREE Template – July 2009
Wow, sorry for the delay everyone! It has been a busy summer for us. After a miscarriage in 2007, followed by a struggle with infertility, my husband and I are finally thrilled to be expecting another child. But…this means that most of my spare time these days is spent sleeping rather than scrapping. 🙂 I am finally getting some energy back now that we have entered the 2nd trimester, which means I was *finally* able to get some templates whipped up as well.
So anyways, on to the July challenge. Thank you for your patience!!
As always, there are only TWO rules for this challenge:
1. Create a NEW layout containing at least 4 photos.
2. Post your layout in the GDS Multi-Photo Challenge Gallery and then reply in the challenge thread with the link so that we can all see your creation. Layouts must be posted by July 31st.
I will offer up a free multi-photo template that you are welcome to use if you need some inspiration for this challenge. However, using this template is NOT required. Any new layout containing at least 4 photos qualifies. You can download the template for FREE, no strings attached, at the GDS Multi-Photo Challenge thread.
And, if you complete this challenge and post your layout in the Multi-Photo Challenge gallery by July 31st, you will receive this template as your free posting bonus: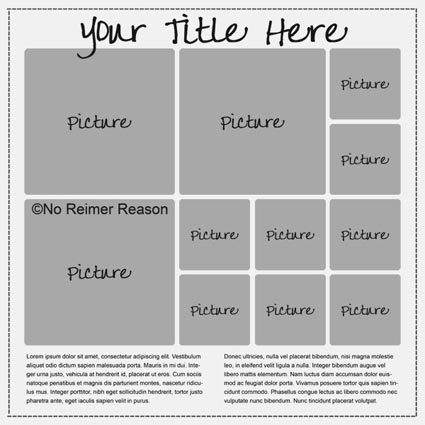 It's a biggie with room for up to 11 photos. The photo layers can easily be swapped for papers or embellishments though too, allowing for more flexibility.
I am looking forward to seeing your layouts!