Gold Star
I received a Gold Star Blog Award from Nani at the Chronicles of Nani.
Nani was one of my fellow contestants at Stone Accents Studio's D
esign contest and all of us came to know her as a cheerleader and huge encouragement during each round. It looks like her encouragement continues, as I was thrilled to be nominated to receive this. 🙂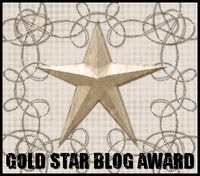 Thanks Nani!