Afternoon Hike – Scrapbook Layout
Well, I didn't win the Stone Accents Studio design contest. Boohoo. But I am very thankful that I did make it to the final round. I learned a lot and, other than the stress and scrambling to get the challenges done in time each week, I really enjoyed my time there and getting to know the fellow contestants who were all so fabulous and supportive.
Speaking of supportive, thanks to all of YOU for your support and votes while this craziness was going on. I will have another freebie for you all soon. 🙂
Now that I finally have some time on my hands (in the evening after baby-girl is in bed), I actually got a layout completed tonight. Well, I DID use a QP to get it done, but it is a layout completed nonetheless.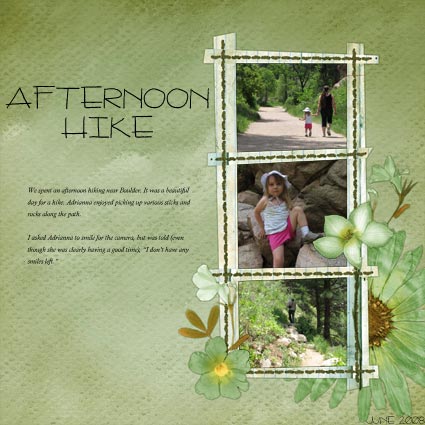 Credits: QP by Angie (aka IkeaGoddess) at Weeds and Wildflowers