Cousin Kat's USAFA Graduation
My cousin Kat graduated from the United States Air Force Academy this past Wednesday. Greg, Adrianna, and I are all very glad that we were able to attend.
We met just outside the academy gates. Luckily, my brother had his military ID on him so with Brian in our car and Kat in the other, we were able to take a back way not readily accessibly to the public and avoid a bunch of traffic on our way in. That sure was nice! So since we had some extra time to kill, we hung out for breakfast at a nearby Burger King. The ground crew for the Thunderbirds was there as well, and so Ebony was excited to get her picture taken with them.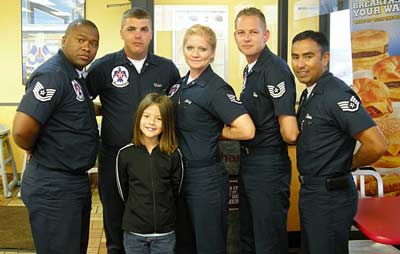 After breakfast, it was time to make our way to the stadium. It was cold, foggy, and drizzly outside. Going off of the weather forecast of "a high of 75 degrees", most of us weren't very prepared for the fifty degree wetness. Thankfully my dad had some blankets in his car and we had our jackets with us. (It was an outdoor event.)
Here is part of Kat's cheering section.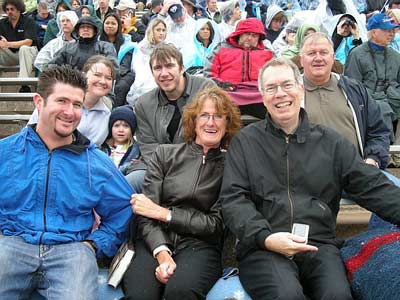 L-R: My cousin Doug, Amber, Adrianna, Greg, my Aunt Kay, Dale, and my Dad (aka Uncle Kenny)
With over 1000 graduates, it was a long ceremony. Thankfully, Adrianna took a nap during part of it.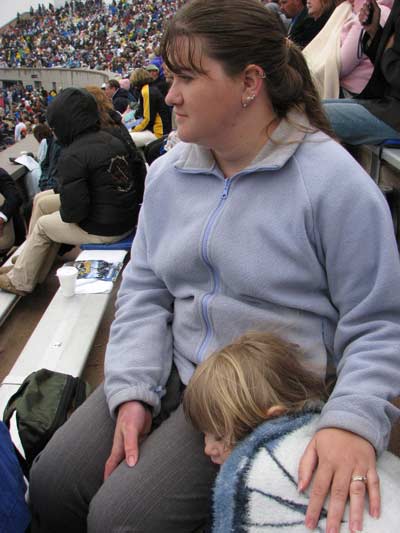 Watching the cadets file in was awesome. So military and efficient. I liked it so much, that I got part of it on video. Too bad they don't have all graduations file in like this!

President Bush was the commencement speaker. No matter what you think about his politics, it was still very cool to see the president.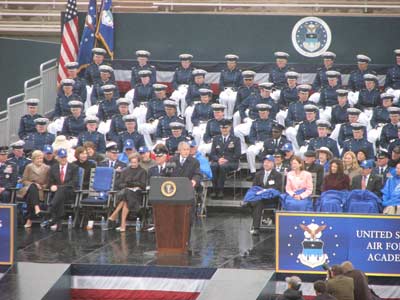 I was amazed that he shook hands with every single graduate. In some instances, he even gave them a hug, waved to the camera for their parents, or even chest bumped a couple. I like that he can be down to earth that way. Very neat.
Here is the President shaking Kat's hand.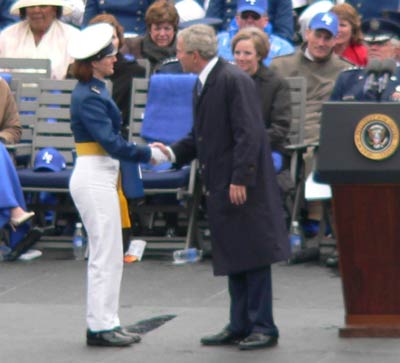 Unfortunately, due to the cloud cover, the Thunderbirds were unable to do their scheduled air show. They did a flyover at the end, but that was all. We had warned Adrianna about the loud noise that they would create, and though it startled her when they did their flyover, I think the warning helped because she was actually as disappointed as we were when we found out the airshow had been canceled.
After the graduation, we took another back way (Hooray!) to the visitor's center for lunch, once again avoiding the crowds. By this time, the fog had lifted and the sun was shining, so after lunch we took a walk to the chapel. Greg had never been there, so I am glad we were able to do so. The chapel is amazing and very beautiful. We took some pictures of the chapel, but they just do not do the place justice.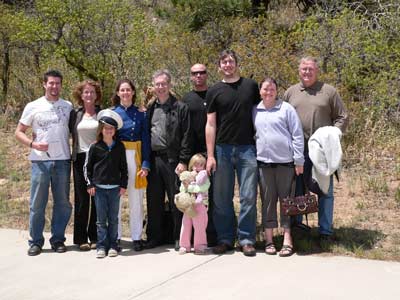 Adrianna really took a liking to her cousin Kat. (Well, cousin once-removed. hehe.)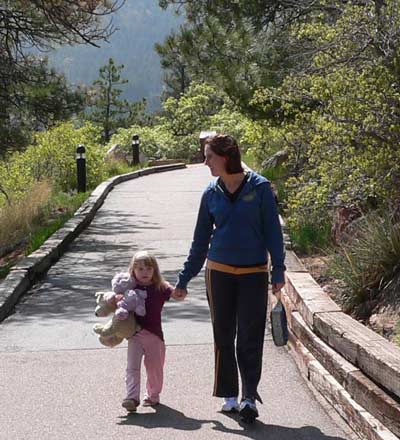 The Chapel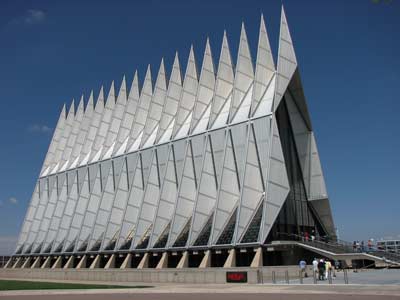 Inside the Protestant Chapel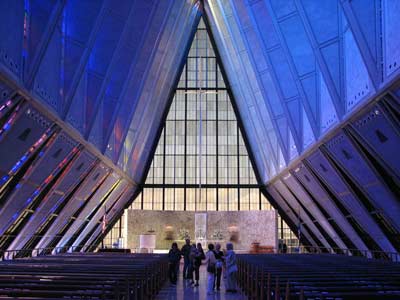 Inside the Catholic Chapel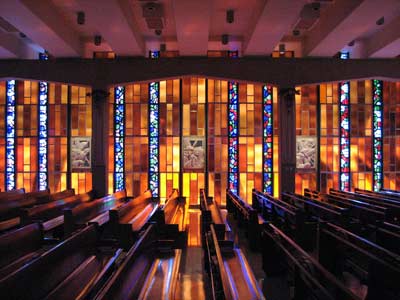 Adrianna trying on Kat's hat. After the ceremony, all the graduates throw their hats in the air and kids 8 and older get to go onto the field and retrieve them. Kat threw hers to Ebony. 🙂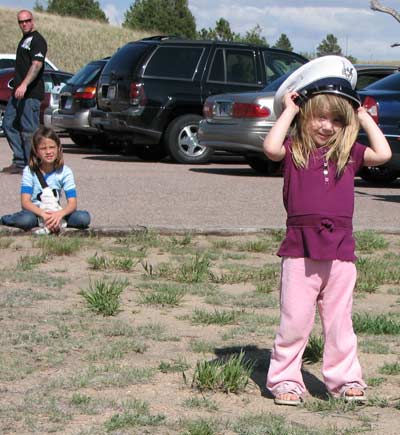 Congratulations Kat. We are so proud of you!