No Bye-Bye Tain This Week
Every day, Adrianna talks about how we went "Bye-bye tain. Zoo." Since this was a couple months ago, it must have been an enjoyable experience for her. So I decided to take her back to the zoo on Tuesday specifically so we could ride the train again. Unfortunately, the train was broken. Poor Adrianna. I tried to tell her that the train was broken and I think she kind of understood. Our conversation for the rest of the day was, "Bye-bye tain. Bo-en."
We did ride on the carousel. She was still too scared to ride on the animals, so we found a bench seat instead where she could sit on my lap.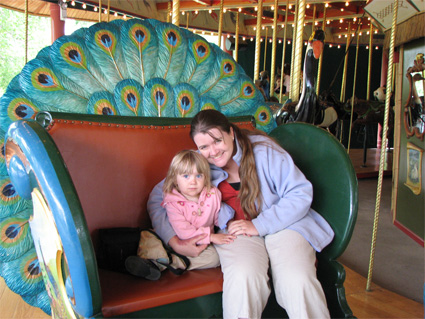 On Sunday afternoon, we decided to try our luck with the train again. (We had been told on Tuesday that it would be fixed in a couple of days.) This time Greg went with us too. We headed straight for the train, only to be disappointed again. So we took another ride on the carousel. This time I coaxed Adrianna into riding on a bear. He didn't go up and down and she would only sit on him if I sat behind her and wrapped my arms around her waist, where she could then grasp my hands. But I think we are making progress.
The zoo is always a lot of fun for us. This season pass has been way worth it. I will definitely be renewing.
One highlight of the trip was when the zebras came really close to the front of the fence. They are such beautiful animals. Adrianna likes the "zedas" too. Unfortunately, one of them took that moment of closeness to poop, so Adrianna latched on to that for the remainder of the trip. We had several conversations about "Zeda. Poop. Mess."