To My Precious Little Baby
To my precious little baby,
You weren't with us long, but oh how much you were loved by your Daddy and I. We were amazed to see your heart beating at only 6 weeks. When we got the news yesterday (at 8.5 weeks) that you had left us to live in heaven, we were overwhelmed with sadness that we would not get to hold you in our arms. But know that we hold you in our hearts and I know that you are with your Creator who has called you by name even before your birth and He loves you even more than we do. Because of this hope, I know that we will meet again in heaven. Until then, we love you.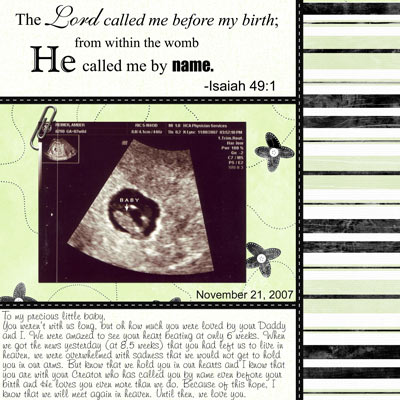 Credits: Paper & Elements from Shabby Princess' Urban Kiwi Kit
I had five private postings over the last month regarding our pregnancy and its complications. I have made them public now that our family knows what is going on. They can be found by clicking on the "Our Second Child" Category.