Karen's Birthday and Vedauwoo
This past weekend we drove up to Wyoming to celebrate Karen's 25th birthday. The whole family was there except for Brian and Ebony who are in Hawaii.
One of the first orders of business was enjoying the swimming pool. Here is Adrianna squealing with glee after I splashed her with water.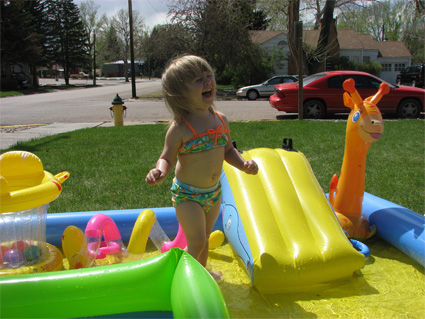 Afterwards, we had grilled hamburgers and hotdogs, along with a walk to a nearby park where Karen, Zach, and I had a shoe-flipping contest. I am still the reigning champ. (We have had shoe-flipping contests since we were kids; they consist of swinging on the swings and seeing who can flip their shoes the farthest.)
On Sunday afternoon, we went to Vedauwoo (pronounced Vee-da-voo). Vedauwoo is an area in southeastern Wyoming with amazing rock formations. It is just beautiful. Here are some of my favorite photos. (More photos can be found in my Picasa account.)