Adrianna's Snow Encounter
We got several inches of snow this morning. Such a contrast to yesterday's nice sixty degree weather that Adrianna and I enjoyed at the zoo.
Our neighbors invited us to go sledding with them on the small hill in the open space right next to our house. This meant bundling Adrianna up in her brand new winter coat and snow pants. Adrianna wasn't too sure about the snow or the pants. First off, the new pants were hard to walk in, causing her to fall down several times in the snow. And the coat and pants are both rather bulky. "Mom, I can't put my arms down!"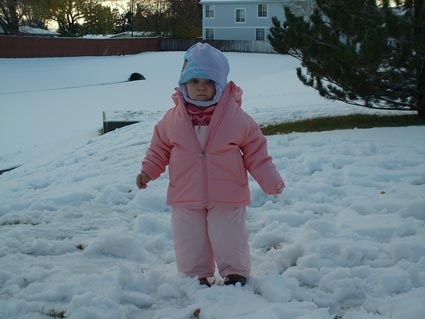 Most days, Adrianna is begging to go play outside but today she wanted me to hold her for the majority of the time we were out there. I think she was confused by all the white stuff on the ground since she couldn't see the normal rocks and grass that she is familiar with and likes to taste.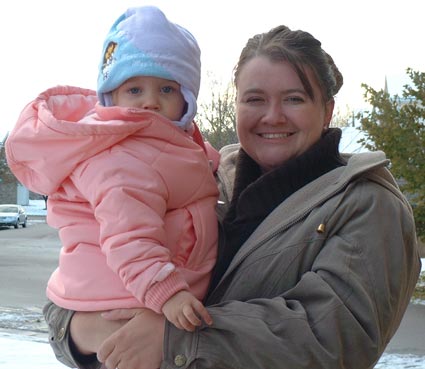 Our neighbor's son pulled her around on a sled for awhile. She had the funniest look of bewilderment on her face. Then he put her on his lap and they took a sledding trip down the hill. She must have gotten scared, as she started crying when they reached the bottom.
After I went down the hill to gather her up, we just stood outside talking to Janette and another mom who was watching her kids sled down the hill. It wasn't too cold out, so it was a fun way to spend the afternoon.