Introducing Layla Ann and Aidan Scott
I came back home this evening. I missed Greggor and was anxious to get back home. Adrianna gave a little squeal of delight when she was put down in our living room and she spotted one of her strollers that she likes to climb on. It's good to be home. I plan on going back to Wyoming to help out next weekend.
Here are the promised pictures. I have even more uploaded in our photo gallery.
Cindy gets ready to be rolled into the operating/delivery room.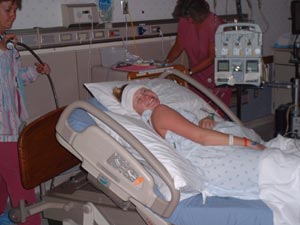 Kendall gets his scrubs on so he can go into the operating room with Cindy.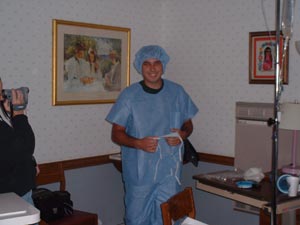 I thought I would be an old pro at holding the babies. After all, we just did this ourselves 15 months ago. But no, I was all nervous about picking them up and supporting their heads. Once I had them in my arms though, I felt better and didn't want to put them back down. They are so sweet and soft. Below is a picture of me holding Layla and Kendall holding Aidan.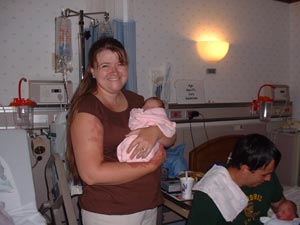 Cindy holding Aidan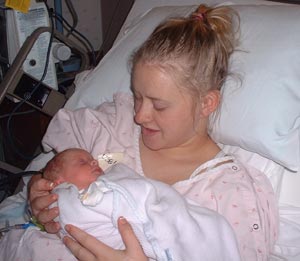 Cindy, Aidan, Kendall, and Layla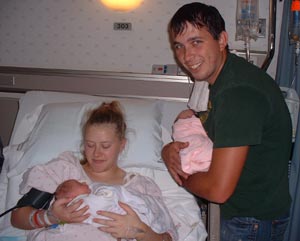 Layla and Aidan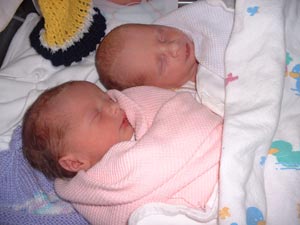 Here I am holding Aidan.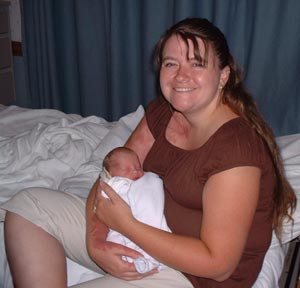 Too much excitement for Adrianna. She didn't get a nap and went to bed way past her bedtime on Friday, so she totally zonked out today in her stroller.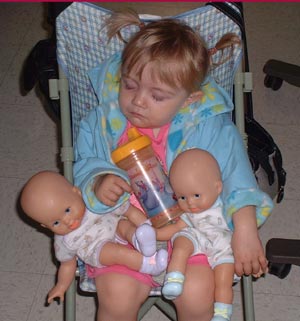 I am so thankful I got to be there this weekend. I am so excited for Cindy and Kendall.
Oh, and I just have to mention one cute thing. Adrianna and I stayed at Karen and Zach's apartment. Zach had been busily preparing their apartment for our arrival and getting it childproofed. Since they do not have any children yet, their cupboards don't have locks on them. So, to improvise, he tied belts around the handles of the cupboards that contained dangerous cleaning supplies so that there was no way Adrianna could get into them. I am very appreciative for his thoughtful ingenuity. I wish I would have taken a picture of the cabinets with the belts on the handles. 🙂 Thanks Zach.