Rocking to Johnny Cash
This weekend we watched the movie Walk the Line. I enjoyed the movie, although the sad moments were made even more so when I thought of how they were real events in someone's life. I am a big fan of Reese Witherspoon's, and I thought she and Joaquin Phoenix did a great job. It got Greg in the mood for some Johnny Cash tonight, so we fired up the iPod. Adrianna danced and bopped around to it. As I listened to the real Johnny Cash, I realized that Joaqin did a fantastic job at capturing Johnny's essence while he sang. Very impressive.
Adrianna enjoys sitting in the glider chair (or on its accompanying ottoman) and rocking herself back and forth. Here she is rocking to Johnny Cash.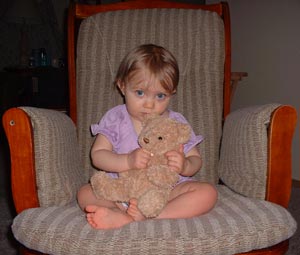 I actually didn't have to pose her for these pictures at all. She was playing with her bear, and I just picked her up and put her on the chair, whereupon she started rocking and entertaining herself.