Our Easter Sunday
It is so nice to have a church to go to again. We have been trying this new church out for a month and a half now, and I think we have decided that we are going to make it our new church home and start getting involved. I am excited about that.
After church, we had a nice Easter dinner at Old Country Buffet. After dinner and an afternoon nap for both Adrianna and I, us girls walked to the park while Greg went to Lowe's to pick up some lumber for a new workbench he is building in our garage.
While at the park, Adrianna was able to play in the sand for the first time. She seemed to enjoy picking it up and then letting it pour through her fingers back to the ground. We also watched some other children having an Easter Egg hunt.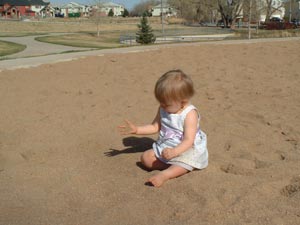 After we got back home from the park, I let Adrianna open up her birthday gift from us, just a few days earlier. It is a toy that makes noise and it also plays a bunch of fun tunes that Adrianna promptly started bopping and bobbing her head to. As you can see, she gives it a thumbs up.