Another Fun Weekend with family
This past weekend, Marilyn (Grammy), Kristi, and Kristi's friend, Paula, came out to Colorado to visit. I think we were just an added bonus; they were really here to see Adrianna. hehe. They got here Friday night and left early this morning.
Friday night we just hung out at the house played with Adrianna. Greg made tacos and I made an oreo pie. On Saturday, a Reimer family friend, Jim, came over to spend the evening. Shad and Lynette also stopped by. So all of us headed over the PF Changs for dinner. The great thing about the PF Changs location we go to is that there is a Borders store right next door. I think all of us could spend hours at Borders without any problems. So we spent our hour wait for dinner perusing through books.
PF Changs is one of my favorite places to eat. I always get the same meal: Mongolian Beef. I see no need to branch out as it just doesn't get any better than their Mongolian Beef. Our waitress really liked Greg. I think she warmed up to him since he had his Pensacola shirt on and she is from that area. But she sure was extra friendly to him. 🙂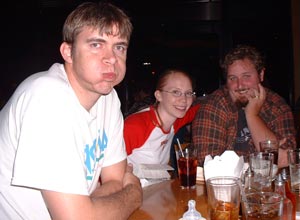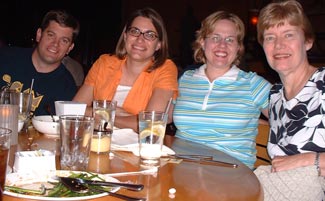 After PF Changs, we headed back to our place. Greg made everyone his delicious parfaits, which consist of chocolate pudding, vanilla pudding, and french vanilla cool whip. By this time it was getting late, so Shad and Lynette had to head back to Springs and Jim went back to Longmont.
On Sunday we visited Riverside Baptist. Got to see Pastor Duane again. (He was our associate pastor at Riverside South and is now the worship leader at the Riverside Main Campus.) I really appreciated that they have a "cry room" AND a nursing room. The Cry room is for moms AND dads to go with their babies if needed. Pretty nice. I liked that you could still watch the sermon from the cry room, and that the nursing room had the sermon on closed circuit tv. It was so nice being able to still hear the sermon when I had to leave the main sanctuary with Adrianna.
Sunday afternoon was a lazy one for me. Marilyn watched Adrianna so I could take a nap. Oh, sweet sleep. Paula and Kristi went shopping in Boulder. Then we all met up again at the Flatirons Mall area and ate at Red Robin. Greg treated us all to dessert from Cold Stone, which we ate outside. It was such a beautiful evening that we stayed hung around for quite awhile.
I was sad to see them leave this morning. I am already looking forward to our next visit!