Morning Smiles
I mentioned in a previous post about the precious smiles that Adrianna greets me with in the mornings. I decided that I needed to capture these on video, since they are so adorable. So I did so yesterday morning. Greg then showed me how to download the file to our computer and essentially make a movie that I can then upload to the web.
So here is a short movie of Adrianna's morning smiles for your viewing pleasure.
Here is an example of the sweet smiles you will find on the video: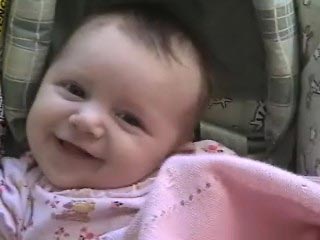 Now that I know how to download the videos we have been taking, I am sure you can expect more movies to come!