Category Archives:
Tutorials
Have you ever found yourself with a great two-page digital scrapbook template but decided you really only wanted to create a one-page layout, using just half (one page) of the template? It is really simple to do!
Open the template in Photoshop.
First thing, do a "Save AS" and save your template under a new name. This ensures that your original template remains "as is" and all changes will be applied to your new copy. (This is super important, so you can reuse your original template again for future layouts – one of the beautiful things about digital scrapbooking!)
Select the Crop Tool. For a 12×12 layout, set it to crop 12 inches width by 12 inches height. (For an 8.5×11 layout, set the width to 8.5 inches by 11 inches height.)
Select the side of the template that you want to use and draw a 12×12 square over that part, starting from one of the outer corners and drawing in. The settings you selected in the previous step will help ensure you grab the full 12×12 portion. Click the check mark once you have the full page selected.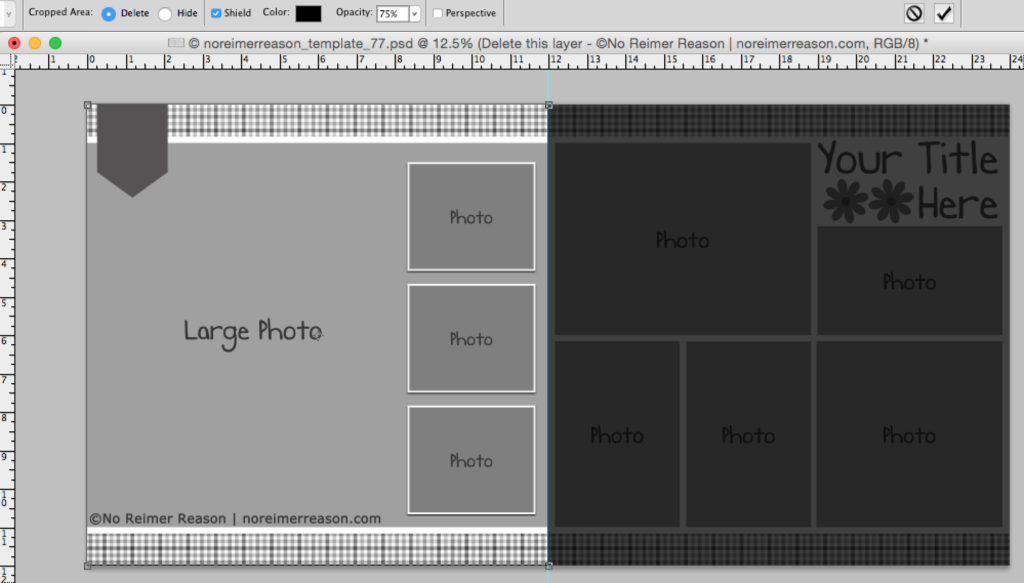 You have now updated your template to be a one-page template and can start clipping your photos and papers to the layers.

Layout Credits: Template by No Reimer Reason, Papers by Traci Reed, Tag by Paislee Press
The Template used in this tutorial is No Reimer Reason Template #77 and can be found in my Etsy Store. I have a 12×12 template and an 8.5×11 template available in this style.
Today I'd like to share a tutorial with you on how you can change a 12×12 template to 8.5×11. In fact, I am going to share two different ways to do the conversion.
This tutorial was created in Adobe Photoshop but it should be pretty similar in Photoshop Elements. Here is the 12×12 template we will be working with.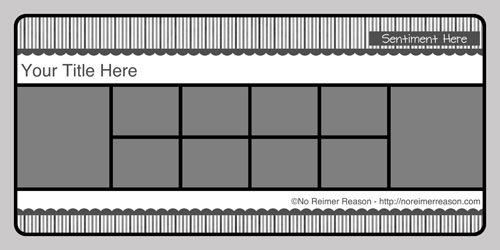 Template Size Conversion Option #1
Step 1: Open your 12×12 layout and do a "Save as" so that you are working with a copy rather than your original file.
Step 2: Go to Image/Image Size.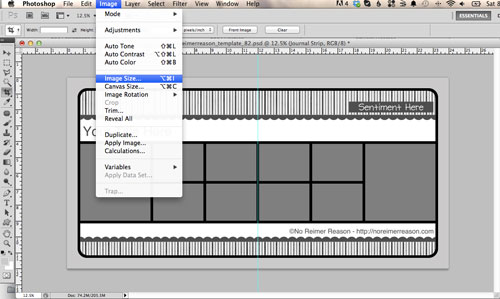 Step 3: Change the Document Size to 8.5″ for Width and 11″ for Height. Make sure the Constrain Properties checkbox is NOT checked. Click OK. (NOTE: If converting a two-page template like in my example, the width should be 17″, which equals 8.5″+8.5″)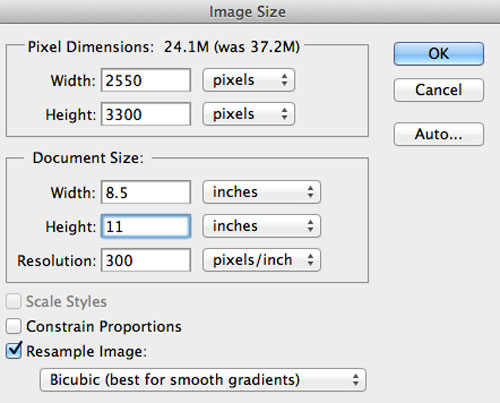 Step 4:And DONE! So simple and easy. You will see that the template's shapes do resize slightly using this method. (The photo boxes are narrower because the overall layout was updated to be narrower.) For this reason, do not attempt these steps with a completed layout or your photos would get distorted. But for a template, it is no problem.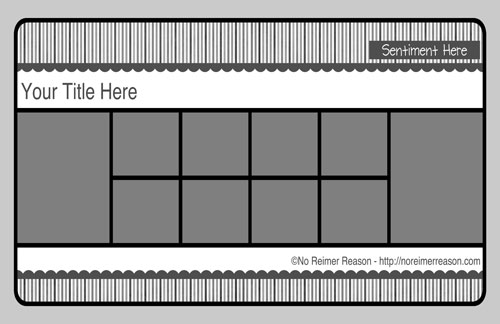 Template Size Conversion Option #2
Step 1: Open your 12×12 layout and do a "Save as" so that you are working with a copy rather than your original file.
Step 2: Go to Image/Image Size.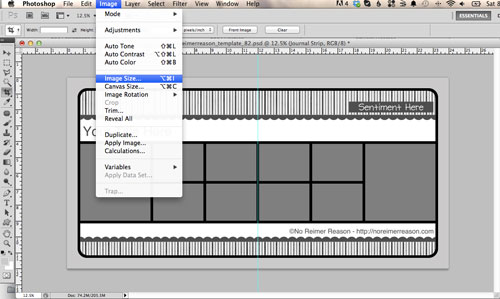 Step 3: Change the Document Size to 8.5″ for Width and 8.5″ for Height. Click OK. (NOTE: If converting a two-page template like in my example, the width should be 17″, which equals 8.5″+8.5″. The height would still be changed to 8.5″.)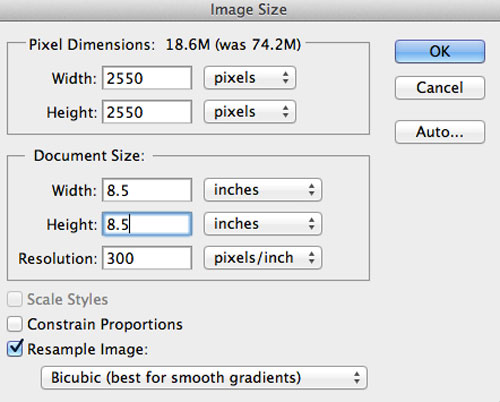 Step 4: Go to Image/Canvas Size. Update the height to 11″. Click OK.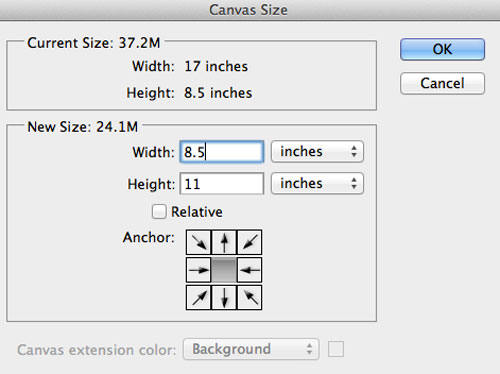 Step 5: Your canvas will now be 8.5×11. Since we've changed the canvas from a square to a rectangle, you will now see some transparent places in the template.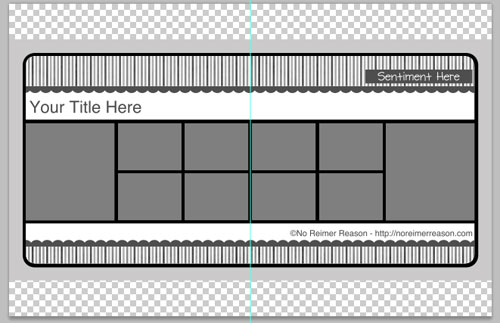 Step 6: Go to the background layer in the layers palette and fill the entire background with the original background color.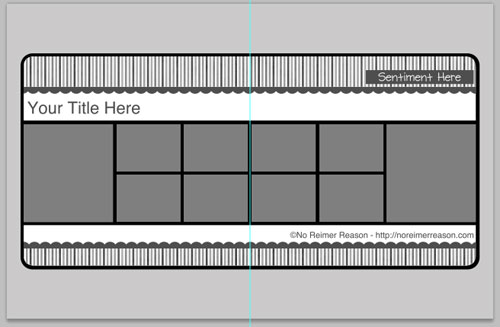 Step 7: And DONE! In this example, you will notice that the shapes from the original template maintain their original sizes in relation to each other. This is because we initially changed the template from 12×12 to 8.5×8.5, therefore keeping the original square of the layout. However, once we then elongated the height to 11″, the background now contains more white space. Since this is a template, feel free to resize or move any of the shapes to fill up the extra space or you can leave it as it is.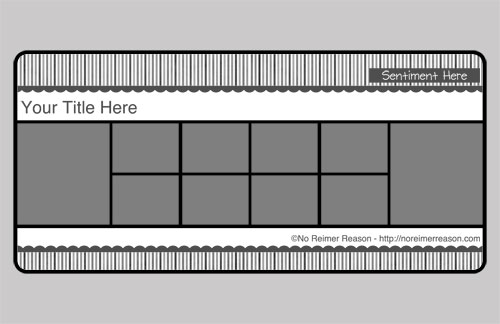 Here are the final results: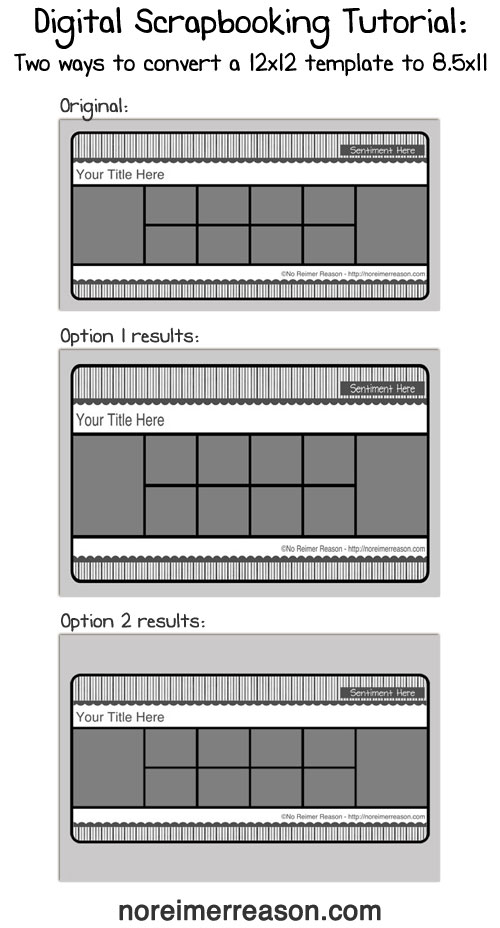 I hope this helps you on your scrapping journey. It should also open up a bunch of options for those 8.5×11 scrappers who have a hard time finding templates in their preferred scrapbook size!
Back when I was a paper-scrapper, one of my favorite tools was my corner punch which I used to make rounded corners on my photos. If you were to take a look at those old layouts, I am sure it would be easy to spot just when that tool was purchased, as I began to use that thing all the time on pretty much every photo.
I still like the look of rounded corners on my digital scrapbook layouts, although I don't think I go as crazy overboard as I did back then. 😉
Here is how to get a rounded corner on your digital photos using Photoshop or Photoshop Elements.
To start off, I move the photo onto my scrapbook layout so that I do not change my original file.

Select your Custom Shape Tool (Keyboard shortcut is Ctrl-U on a PC or Command-U on a Mac) and then select the Rounded Rectangle Tool option.
Change the radius to the value you want for your rounded corners. For this example, I am using 150px. Generally, the larger the number the more rounded your corners will be. I also have "Create New Shape Layer marked" in case yours does not default to that option.

Click and drag with your mouse to create the rectangle size that you desire. After releasing your mouse, you will have a new layer on top with your rectangle shape. In a later step, we will be using this new layer/shape as our clipping mask in the same way you would clip a photo or paper to a digital scrapbook template's layer.

Using the Move tool, reposition the rounded rectangle over your photo (if needed). You can also resize the width or height of your rectangle at this time (if needed). You might find it helpful to reduce the opacity of your new "Shape" layer so that you can see your photo underneath when doing your repositioning or resizing.

Change the opacity of the shape layer back to 100% if you changed it in the previous step. (Important!)
In your layers palette, move the "Shape" layer to be directly BELOW your photo that you want the rounded corners on.

Select your photo layer in the layers palette to make it the active layer.
Now you are going to "clip" your photo to the Shape layer. For Photoshop Elements users, this is a CTRL-G (Command-G on a Mac). For Photoshop CS users, this is a CTRL-Alt-G (Command-Option-G on a Mac). Or alternately you can go to your Layer menu and choose "Create Clipping Mask".
You now have a photo with beautifully rounded corners. You can merge the photo layer and the shape layers together if you desire.
These instructions can also be used to create a complimentary paper matte for your rounded-corner photo.
You can really get creative with your rounded corners in your digital scrapbook layouts. I will have an example in an upcoming future post. 🙂