Scrapbook Layout – Butterfly Pavilion
Do you ever want to scrapbook but feel uninspired and out of ideas when you actually go to scrap your photos? Yeah, me too. Then I find myself perusing the galleries and the layouts I have pinned to Pinterest, which usually helps tremendously.
Another thing that often helps get me going is to scraplift myself. This is my most recent scraplift. It is from a template I created a few months ago so it was pretty easy to throw together. (I did change a couple of the photo box sizes.) 🙂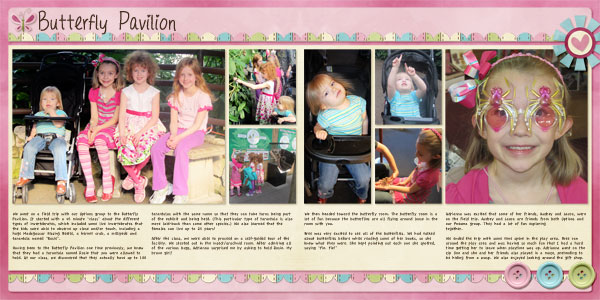 Credits: Kit used was Ellie Lash's Aiobheals Garden
If you haven't grabbed the free template yet, it is still available. Just click on the image below to be brought to my Digital Scrapbook Freebies page to download.

Also, the kit I used for the new layout above is a freebie by Ellie Lash. I just checked and as of today, it is still available for free download on her site.