Free 2-Page Digital Scrapbook Template #61
I have fallen in love with 2-page templates. I think I may have to start creating some more of these. I love being able to finish 2 matching pages in one sitting. 🙂
Here is the original layout. It is of our little Breezy girl, who recently had to spend a night in the hospital for RSV. After a couple weeks on oxygen, we are glad she seems to be fully healed.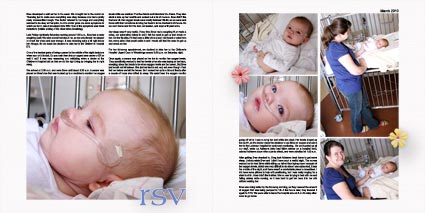 Credits: Alpha – Striped Alphas by Dharamsala Designs, Background Paper – Warm Woolen Mitten by Three Paper Peonie, Flowers – Recess by Heather Roselli

And now for your free template download. 🙂 You can click on the image to be brought to my download page containing all of my available scrapbook freebies.