Scrapbook Layouts
I've gotten a few more layouts done in the past couple of weeks. It is a good feeling and a lot of fun for me.
Old Fall River Road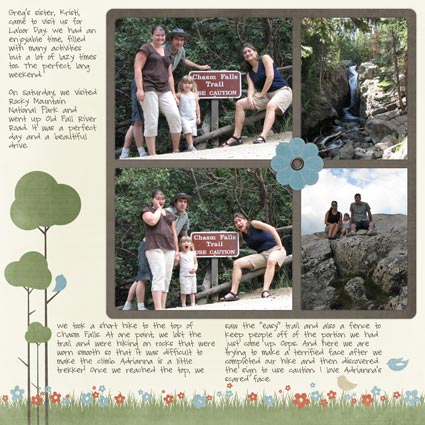 Journaling reads:
Greg's sister, Kristi, came to visit us for Labor Day. We had an enjoyable time, filled with many activities but a lot of lazy times too. The perfect, long weekend.

On Saturday, we visited Rocky Mountain National Park and went up Old Fall River Road. It was a perfect day and a beautiful drive.

We took a short hike to the top of Chasm Falls. At one point, we lost the trail and were hiking on rocks that were worn smooth so that it was difficult to make the climb. Adrianna is a little trekker! Once we reached the top, we saw the "easy" trail and also a fence to keep people off of the portion we had just come up. Oops. And here we are trying to make a terrified face after we completed our hike and then discovered the sign to use caution. I love Adrianna's scared face.
My Pretty Girl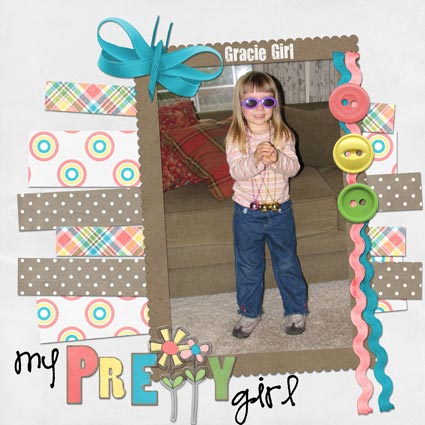 Credits: QP given by Mandy Mystiques (made by Trish)
Horseshoe Park – Alluvial Fan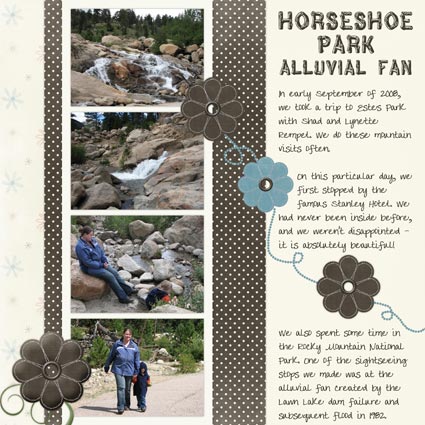 Journaling reads:
In early September of 2008, we took a trip to Estes Park with Shad and Lynette Rempel. We do these mountain visits often.

On this particular day, we first stopped by the famous Stanley Hotel. We had never been inside before, and we weren't disappointed – it is absolutely beautiful!

We also spent some time in the Rocky Mountain National Park. One of the sightseeing stops we made was at the alluvial fan created by the Lawn Lake dam failure and subsequent flood in 1982.
Fresh
Okay, so this next layout I actually made back in October, but I don't think I have posted it here yet. It was an assignment using the Photoshop slice tool for a digital scrapbook class I was taking at GDS.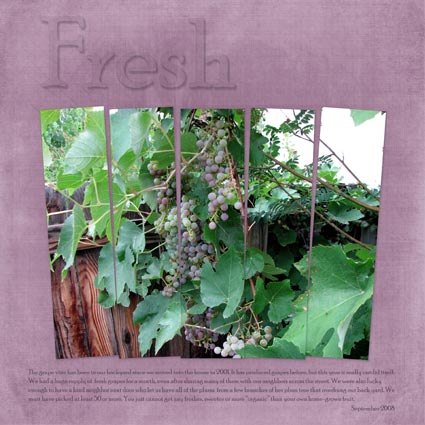 Journaling reads:
The grape vine has been in our backyard since we moved into the house in 2001. It has produced grapes before, but this year it really outdid itself. We had a huge supply of fresh grapes for a month, even after sharing many of them with our neighbors across the street. We were also lucky enough to have a kind neighbor next door who let us have all of the plums from a few branches of her plum tree that overhung our back yard. We must have picked at least 50 or more. You just cannot get any fresher, sweeter or more "organic" than your own home-grown fruit.
My Gracie Girl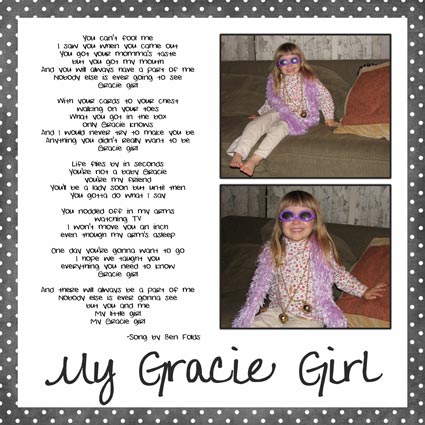 The journaling is the lyrics from Ben Folds's Gracie Girl song:
You can't fool me
I saw you when you came out
You got your momma's taste
but you got my mouth
And you will always have a part of me
Nobody else is ever going to see
Gracie girl

With your cards to your chest
walking on your toes
What you got in the box
only Gracie knows
And I would never try to make you be
Anything you didn't really want to be
Gracie girl

Life flies by in seconds
You're not a baby Gracie
you're my friend
You'll be a lady soon but until then
You gotta do what I say

You nodded off in my arms
watching TV
I won't move you an inch
even though my arm's asleep

One day you're gonna want to go
I hope we taught you
everything you need to know
Gracie girl

And there will always be a part of me
Nobody else is ever gonna see
but you and me
My little girl
My Gracie girl
All She Wants to do is Dance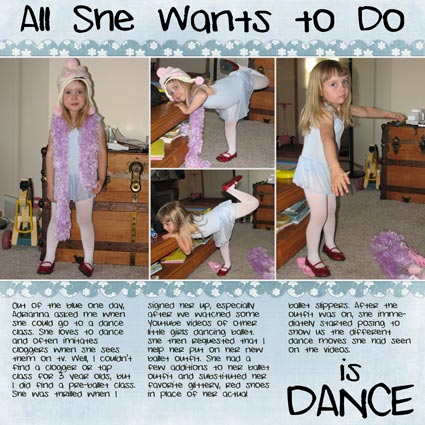 Journaling reads:
Out of the blue one day, Adrianna asked me when she could go to a dance class. She loves to dance and often imitates cloggers when she sees them on tv. Well, I couldn't find a clogger or tap class for 3 year olds, but I did find a pre-ballet class.

She was thrilled when I signed her up, especially after we watched some Youtube videos of other little girls dancing ballet. She then requested that I help her put on her new ballet outfit. She had a few additions to her ballet outfit and substituted her favorite glittery, red shoes in place of her actual ballet slippers. After the outfit was on, she immediately started posing to show us the different dance moves she had seen on the videos.
Me Time
This layout was made as a part of a challenge on a GDS chat last week. We were supposed to make a layout on our favorite way to unwind.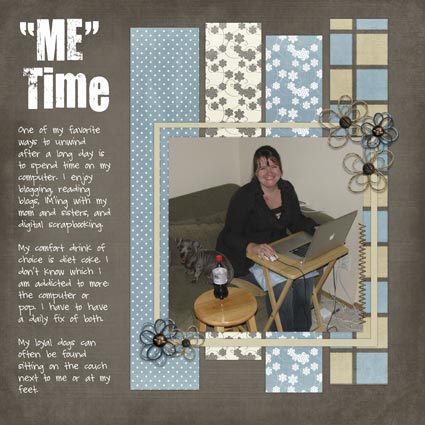 Credits: Template by Andrea Gold
Journaling reads:
One of my favorite ways to unwind after a long day is to spend time on my computer. I enjoy blogging, reading blogs, IM'ing with my mom and sisters, and digital scrapbooking.

My comfort drink of choice is diet coke. I don't know which I am addicted to more: the computer or pop. I have to have a daily fix of both.

My loyal dogs can often be found sitting on the couch next to me or at my feet.
Blow the Candles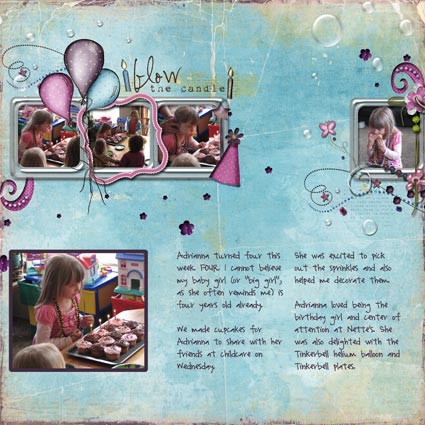 Credits: QP given by Vera Lim, made by Shawtyp. I added a space for an additional photo.
Journaling reads:
Adrianna turned four this week. FOUR. I cannot believe my baby girl (or "big girl", as she often reminds me) is four years old already.

We made cupcakes for Adrianna to share with her friends at childcare on Wednesday. She was excited to pick out the sprinkles and also helped me decorate them.

Adrianna loved being the birthday girl and center of attention at Nette's. She was also delighted with the Tinkerbell helium balloon and Tinkerbell plates.