Scrapbook Layouts
I have completed quite a few scrapbook layouts over the past month.

Credits: "Classic" kit by Designs by Krista
Journaling reads:
In August 2008, Layla and Aidan turned two years old. We traveled to XXX for the party, which was complete with a bouncy house for the kids.

Their gift from us was a Little People Barn set. We have a habit of buying other children similar toys to the ones that Adrianna owns and loves. This way, we feel they are already "kid-approved".

Adrianna, Layla, and Aidan played really well together. One activity that they all took part in was filling their new dump truck with bubbles.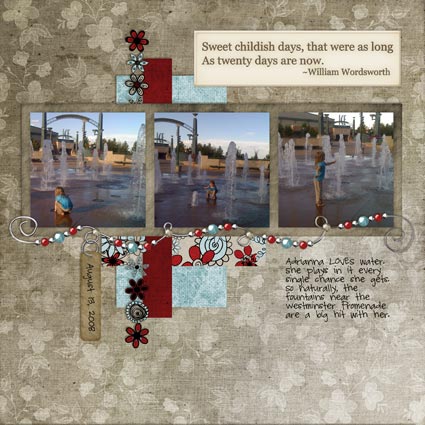 Credits: QP by Ellie Lash, Wordart by Misty Cato
Journaling reads:
Adrianna LOVES water. She plays in it every single chance she gets. So naturally, the fountains near the XXX are a big hit with her.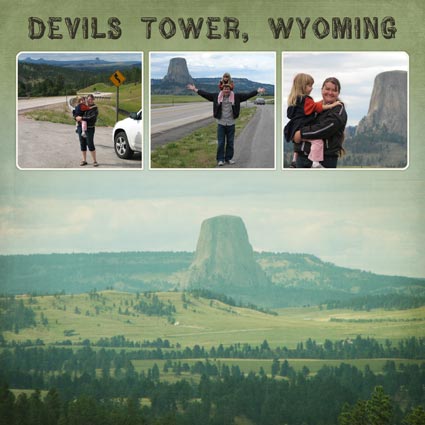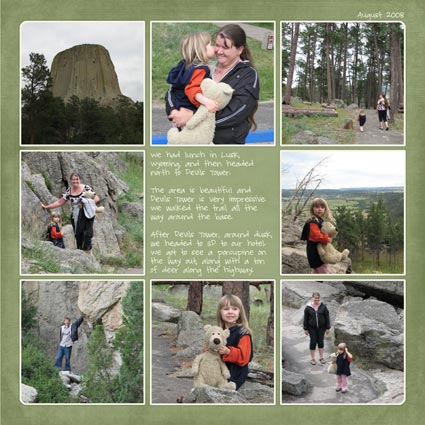 Journaling reads:
We had lunch in Lusk, Wyoming, and then headed north to Devils Tower.

The area is beautiful and Devils Tower is very impressive. We walked the trail all the way around the base.

After Devils Tower, around dusk, we headed to SD to our hotel. We got to see a porcupine on the way out, along with a ton of deer along the highway.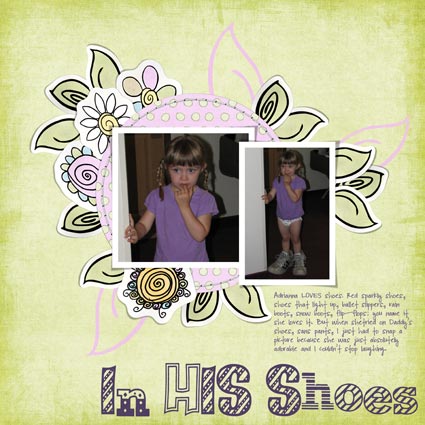 Credits: QP by Loloden
Journaling reads:
Adrianna LOVES shoes. Red sparkly shoes, shoes that light up, ballet slippers, rain boots, snow boots, flip-flops; you name it she loves it.. But when she tried on Daddy's shoes, sans pants, I just had to snap a picture because she was just absolutely adorable and I couldn't stop laughing.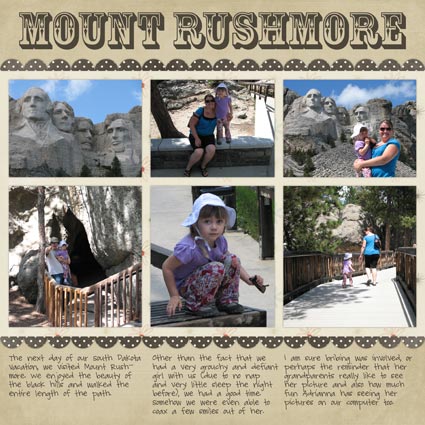 Journaling reads:
The next day of our South Dakota vacation, we visited Mount Rushmore. We enjoyed the beauty of the black hills and walked the entire length of the path.

Other than the fact that we had a very grouchy and defiant girl with us (due to no nap and very little sleep the night before), we had a good time. Somehow we were even able to coax a few smiles out of her. I am sure bribing was involved, or perhaps the reminder that her grandparents really like to see her picture and also how much fun Adrianna has seeing her pictures on our computer too.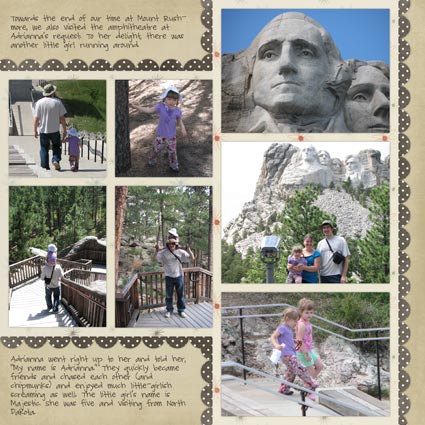 Journaling reads:
Towards the end of our time at Mount Rushmore, we also visited the amphitheatre at Adrianna's request. To her delight, there was another little girl running around. Adrianna went right up to her and told her, "My name is Adrianna." They quickly became friends and chased each other (and chipmunks) and enjoyed much little-girlish screaming as well. The little girl's name is Majestic. She was five and visiting from North Dakota.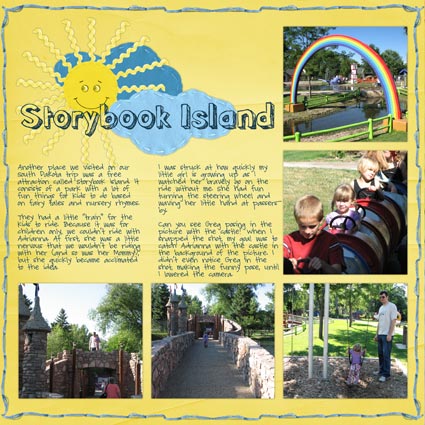 Credits: GDS "Puddles of Play" Collab Kit
Journaling reads:
Another place we visited on our South Dakota trip was a free
attraction called Storybook Island. It consists of a park with a lot of fun things for kids to do based on fairy tales and nursery rhymes.

They had a little "train" for the kids to ride. Because it was for children only, we couldn't ride with Adrianna. At first, she was a little nervous that we wouldn't be riding with her (and so was her Mommy!), but she quickly became acclimated to the idea.

I was struck at how quickly my little girl is growing up as I watched her bravely go on the ride without me. She had fun turning the steering wheel and waving her little hand at passersby.

Can you see Greg posing in the picture with the castle? When I snapped the shot, my goal was to catch Adrianna with the castle in the background of the picture. I didn't even notice Greg in the shot, making the funny pose, until I lowered the camera.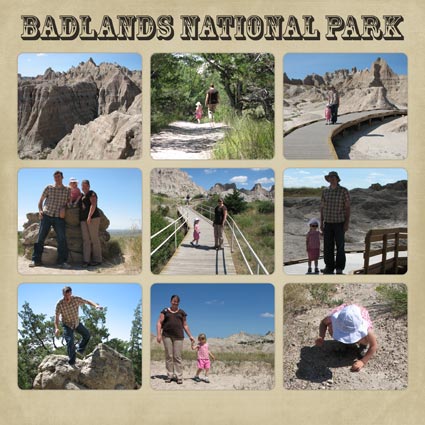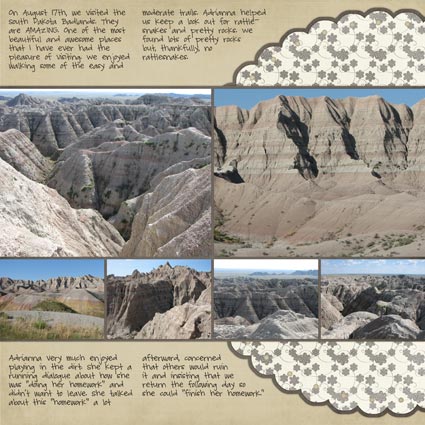 Journaling reads:
On August 17th, we visited the South Dakota Badlands. They are AMAZING. One of the most beautiful and awesome places that I have ever had the pleasure of visiting.

We enjoyed walking some of the easy and moderate trails. Adrianna helped us keep a look out for rattlesnakes and pretty rocks. We found lots of pretty rocks but, thankfully, no rattlesnakes.

Adrianna very much enjoyed playing in the dirt. She kept a running dialogue about how she was "doing her homework" and didn't want to leave. She talked about this "homework" a lot afterward, concerned that others would ruin it and insisting that we return the following day so she could "finish her homework."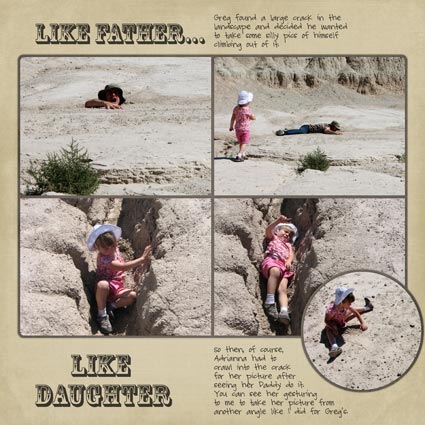 Journaling reads:
Greg found a large crack in the landscape and decided he wanted to take some silly pics of himself climbing out of it. So then, of course, Adrianna had to crawl into the crack for her picture after seeing her Daddy do it. You can see her gesturing to me to take her picture from another angle like I did for Greg's.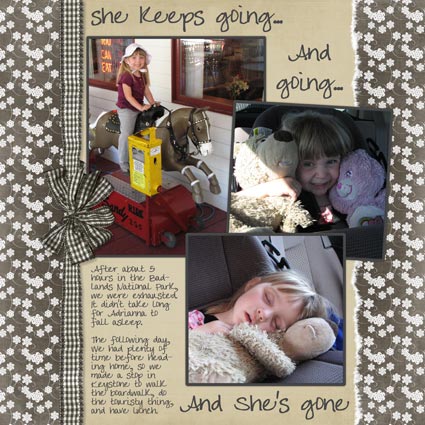 Journaling reads:
After about 5 hours in the Badlands National Park, we were exhausted. It didn't take long for Adrianna to fall asleep.

The following day, We had plenty of time before heading home, so we made a stop in Keystone to walk the boardwalk, do the touristy thing, and have lunch.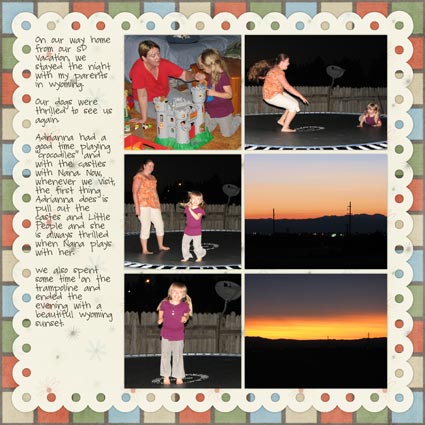 Journaling reads:
On our way home from our SD vacation, we stayed the night with my parents. Our dogs were thrilled to see us again.

Adrianna had a good time playing "crocodiles" and with the castles with Nana. Now, whenever we visit, the first thing Adrianna does is pull out the castles and Little People and she is always thrilled when Nana plays with her.

We also spent some time on the trampoline and ended the evening with a beautiful Wyoming sunset.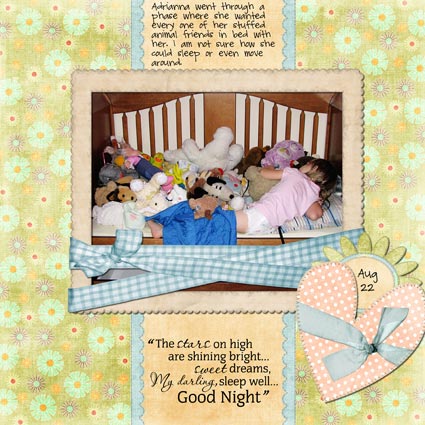 Credits: QP by Dawn Knapp, WordArt by Tracey Anderson
Journaling reads:
Adrianna went through a phase where she wanted every one of her stuffed animal friends in bed with her. I am not sure how she could sleep or even move around.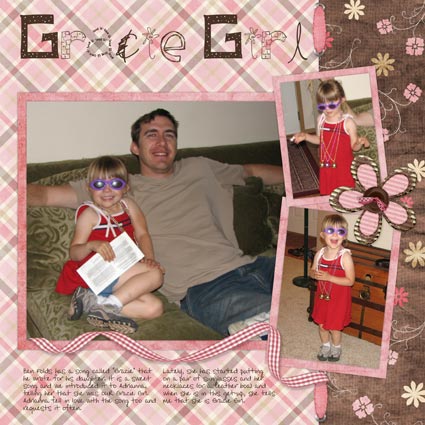 Credits: Scrap Journal Collab Kit
Journaling reads:
Ben Folds has a song called "Gracie" that he wrote for his daughter. It is a sweet song and we introduced it to Adrianna, telling her that she was OUR Gracie Girl. Adrianna fell in love with the song too and requests it often. Lately, she has started putting on a pair of sunglasses and her necklaces (or a feather boa) and when she is in this get-up, she tells me that she is Gracie Girl.