Free Digital Scrapbook Mini-Kit
I signed up to be a part of Funky Playground Design's Designer Apprentice Program last week. As a part of this "Teacher's Pet" contest, we all had to design a mini-kit with a theme and with items we consider to be "trendy". Well, my favorite trend right now is the doodled look to paper and elements, so that is what I tried to go with here.
I am pretty excited about this program. It is a mentoring program and a contest all wrapped up into one. Everyone who doesn't make it past the first round of the design contest can still participate and receive feedback, tips, and tutorials, which is just what I need! I am up against some very talented designers, many whose names I recognized as popular designers already, so I don't know how far I will make it. I am glad to be along for the ride though.
This kit is in honor of my daughter's graduation to a "big-girl bed" last weekend and also being almost potty trained. Thus the bed and potty chair being a part of the kit as well as the kit name. 🙂
Edit: This kit is no longer available for download.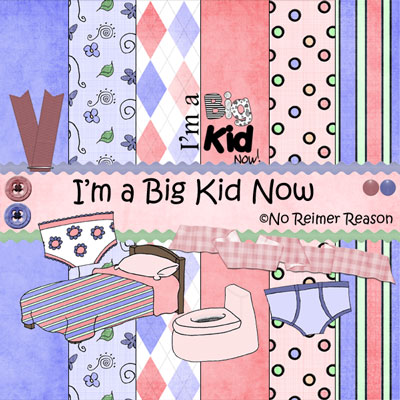 This mini-kit contains:
4 patterned papers
2 solid papers
1 folded and stapled ribbon
1 folded gingham ribbon
2 buttons
2 brads
2 pieces of ric rac ribbon
1 Word Art – "I'm a Big Kid Now"
2 pairs of "underwear" embellishments – 1 for a girl, 1 for a boy
1 bed embellishment
1 potty chair embellishment
I hope you like it. I know it is pretty specialized in theme, but the papers and some of the embellishments are generic, so I think overall it could be a versatile kit.
Happy Downloading!