July 2002 Scrapbook Page
I have actually had time to scrapbook the past couple weeks! Hooray! I have to be pretty careful to keep my supplies and pictures out of little baby hands, because she sure does have a reach on her and she is always curious about what I am working on.
Here is a page from July 2002 when we drove out to Indiana to visit my Grandparents. (Only 4 more years to scrapbook before I am caught up! Whew!) My pages are 12×12 and my scanner isn't big enough to grab the entire page in one scan, so there is a line of distortion where I put the two scanned images together. It also cut off the bottom inch of page. (I was too lazy to mess with Photoshop any further than to line up the scans together.)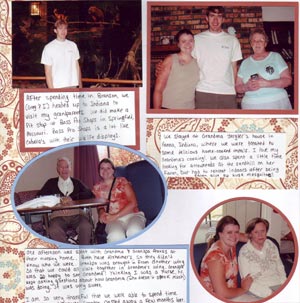 I have to say that my pages are usually pretty simple. Rarely do I get very fancy. My favorite and probably over-used techniques are simple photo mattings, using stickers or background papers, and using my circle/oval templates and corner rounder. I highly recommend the circle/oval templates (especially the ovals) from Creative Memories. Their cutting system is the easiest that I have used and I couldn't live in my little scrapbooking world without them.
One thing that I think is very important is journaling. Even if it is as simple as just to list the people's names that are in the photos, keeping a record of the events and persons involved is crucial in order to pass on your family legacy and heritage to your children.