July 2002 – Branson, MO
Our Trip to Branson/Table Rock Lake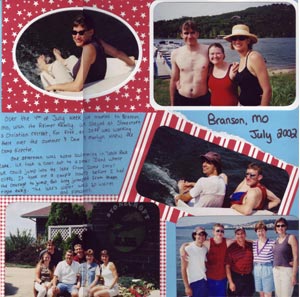 Our Trip to Branson/Blueberry Patch/Silver Dollar City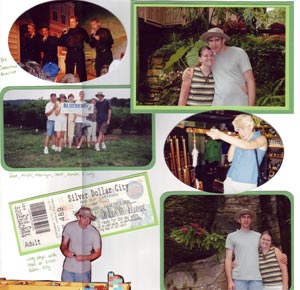 Dogwood Canyon
On this page, I included a brief history of Dogwood Canyon that I found on a brochure that I had kept from our trip there. I did mat it first before adding to my page since the brochure is most likely not acid-free. By matting it first, it should help protect my page down the road. I also made the title of the page (Dogwood Canyon) from a part of the brochure (also matted). Using brochures and other memorabilia from road trip destinations/vacations are both useful and fun to incorporate into scrapbook pages.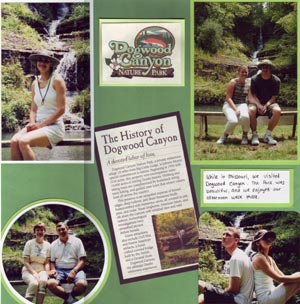 Dogwood Canyon
On this following page, I had 5 pictures of family members in various, fun poses on a couple tree stumps we came across in Dogwood Canyon. Rather than keeping all five of the pictures in their entirety, I chose two of the pictures that I felt displayed the beautiful trees and background of Dogwood Canyon and kept them intact. But what to do with the other pictures? They were fun pictures, so I knew I wanted to include them too. So I used an exacto knife and cut around the posing family members and the stumps they were standing on. Not only did I save a lot of room in my scrapbook and avoid redundancy, I think having cut outs of just their poses adds a bit of fun to the page.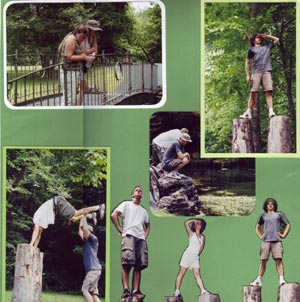 More Dogwood Canyon
I also included our ticket stubs from the Jim Stafford Theatre. I have always thought it was fun to keep ticket stubs as memorabilia from different events (concerts, comedy clubs, baseball games).